Day 7
The contraceptive pill was working it's dark and ugly magic by the time I got to Szechenyi thermal baths. I felt infuriated by the guy on reception telling me that the massage wasn't available without a gift voucher (but I couldn't buy a gift voucher), I was enraged by having to pay for a towel, I was incandescent with anger at the location of the dressing rooms and having to walk past fully clothed people while I was near naked. I assume that what most people do in beautiful old (built in 1931) thermal baths is relax and enjoy the heat and the views. I spent my time looking at other women's bikini clad bodies and washboard stomachs and internally saying "better than mine", "better than mine" "better than mine" and being mad at myself for focusing on my own self loathing that instead of just living in the moment and enjoying myself. The problem is that whilst eating before and during the trip I would ask myself, "does this meal taste better than skinny feels?", and in Budapest the answer is always a resounding fuck yes, of course it does.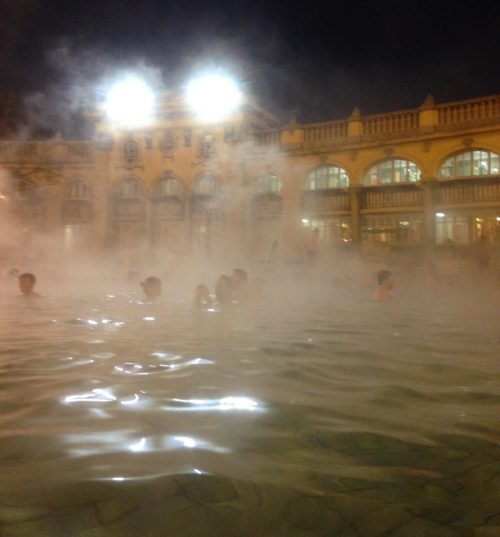 We walked to one of my favourite restaurants in the world and stopped en route (hair still not fully dried, turning into icicles) to rub the pen nib of a great looming statue of an anonymous man. Lore has it that you can become a great writer by rubbing the nib of his pen, as if I haven't heard that line before. There was a gaggle of excited kids lining up to rub it while their parents took photos. Do they not know there's not enough room for everyone in this world to become a great writer? If everyone is great then no one is great, get off my goddamned statue you pesky kids.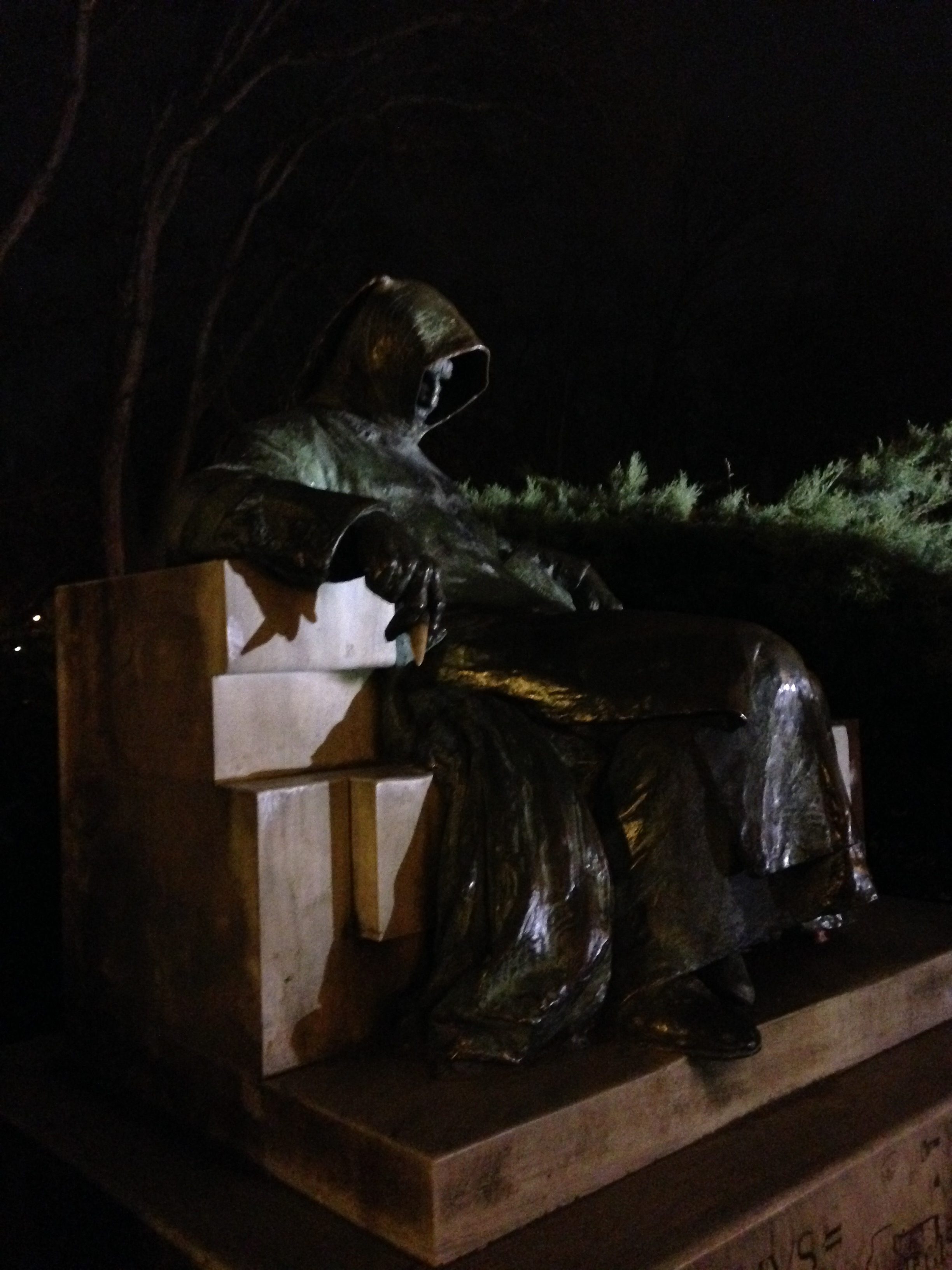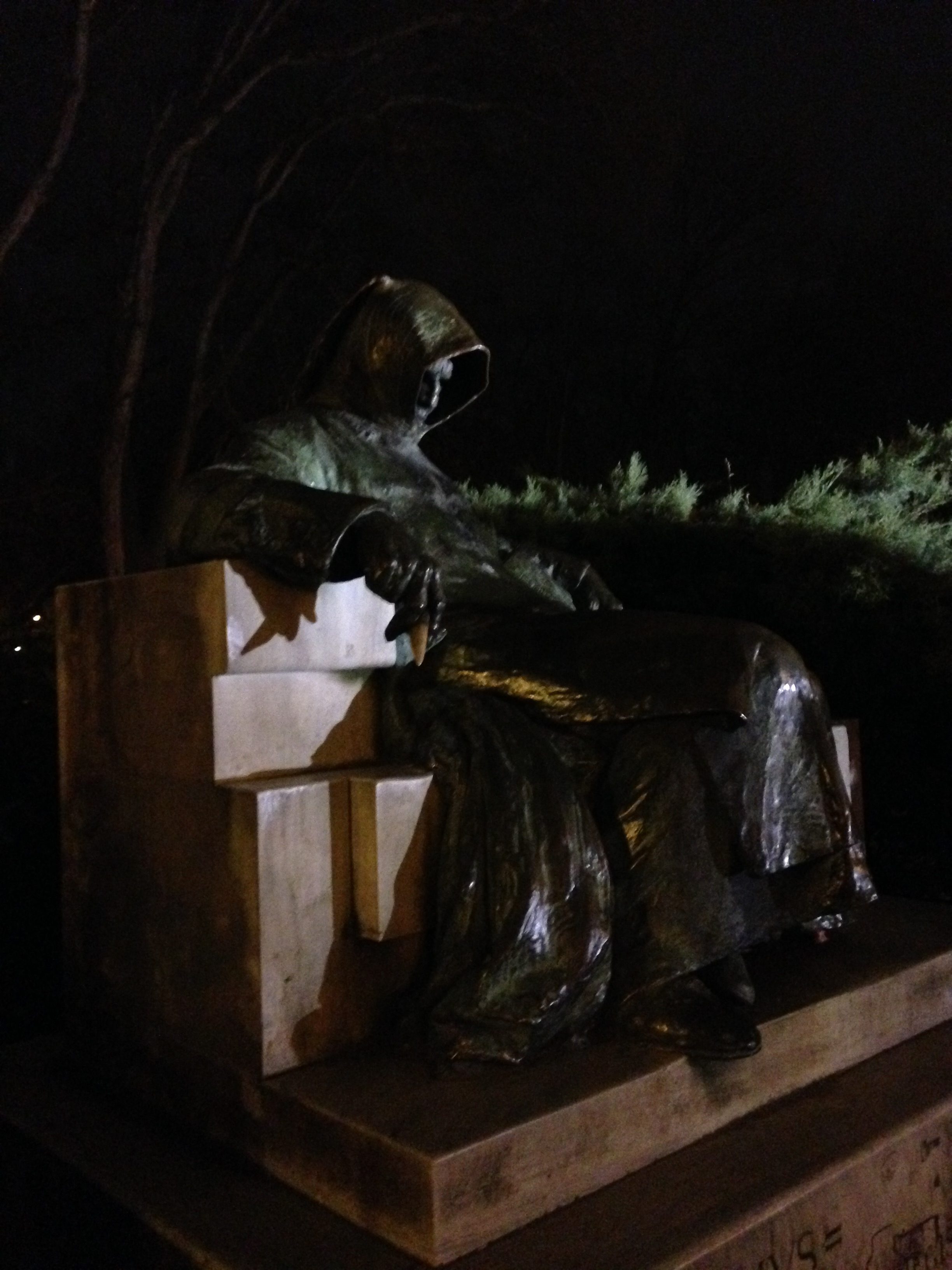 When Sophie and I visited Budapest last April our awesome Airbnb host recommended two restaurants to us; Laci Konyha and Rosenstein. We went to Laci Konyha because it was close to the pinball museum, and a Michelin Bib Gourmand restaurant. It was an amazing experience and both Sophie and i ended up gripping the table with pleasure. Sophie is hilarious and a pleasure to watch when she is eating any food that she enjoys because her already Disney princess sized eyes get even wider. I don't think I have ever seen her eyes as wide as when we ate there, and since visiting the two of us have recommended that place to anyone who even mentions in passing that they might visit Hungary.
The small menu was totally different than it had been last time I was there but In suspect they change it regularly, the cooking strikes me as being the product of someone that gets bored easily, and I mean that in the very best way. I am prone to novelty ordering, if there is something unusual sounding and not too gross on the menu I will most likely order it. Even if I suspect, as I did with my pine lemonade, that it might taste a bit like toilet cleaner. Just in case the idea of having a soft drink taste like a Christmas tree wasn't fun enough for me they put a glorious bendy straw in it to enhance my childish joy. Schnitzel thought it tasted like a drink for squirrels (although he pronounce it "squirl") and he wasn't entirely wrong, and it did have a note of cleaning product like I had suspected but it was nice enough that I ordered a second.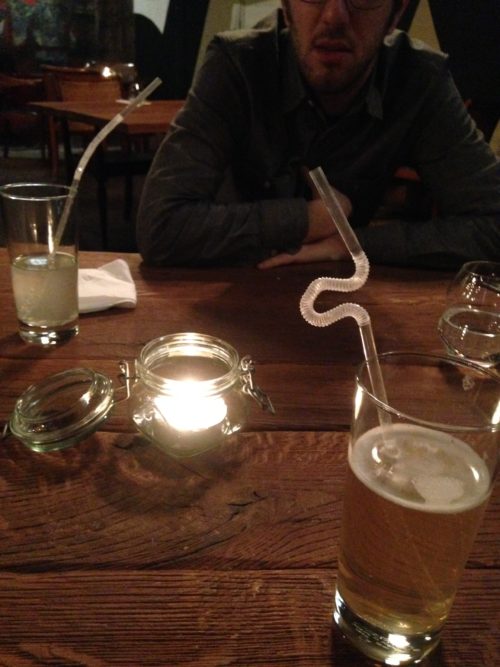 I'm a fan of spicy heat, I love the physical sensation on my tongue (and sometimes nose and ears too) and the dumb bravado involved in trying to outspice your dining partner (possibly something that exists entirely in my head). Sometimes, though, it can be an unwelcome distraction from otherwise delicate flavours. It's the loud friend talking bullshit over her quieter companion's interesting anecdote, and that was what the heat in my tuna tartare starter was. I would get the fint whisper of this huddle of interesting flavours and I wanted to experience them fully and lean in to them but the heat would come charging in and set my tongue on fire before they even got to take form. Actually, that might have been why I had to order a second pine lemonade.
My main was a flawless pork cheek, with Brussels sprouts and potato velouté. I had no idea what a velouté was but based on the name alone I conjured up an image of something like a dauphinoise, but more velvety and more velvety surely means even more butter and cream. I had to call the waiter over to ask where the potatoes were, he very politely explained that they were sat right beneath my nose, if I had the ability to feel shame I might have been embarrassed to not know one of the fucking five French mother sauces. Dessert came with a side of entertainment in the form of a very loud actor and gossipy actor from Chiswick talking to a table of bewilderingly attentive women about the AMC show he is in. The sachertorte with fennel ice cream that we ordered was ambrosial but could have been perfection if the vaguely vegetal fennel ice cream had of been exchanged for liquorice or star anise flavoured instead. I haven't changed my mind about this place, if you go to Budapest go here.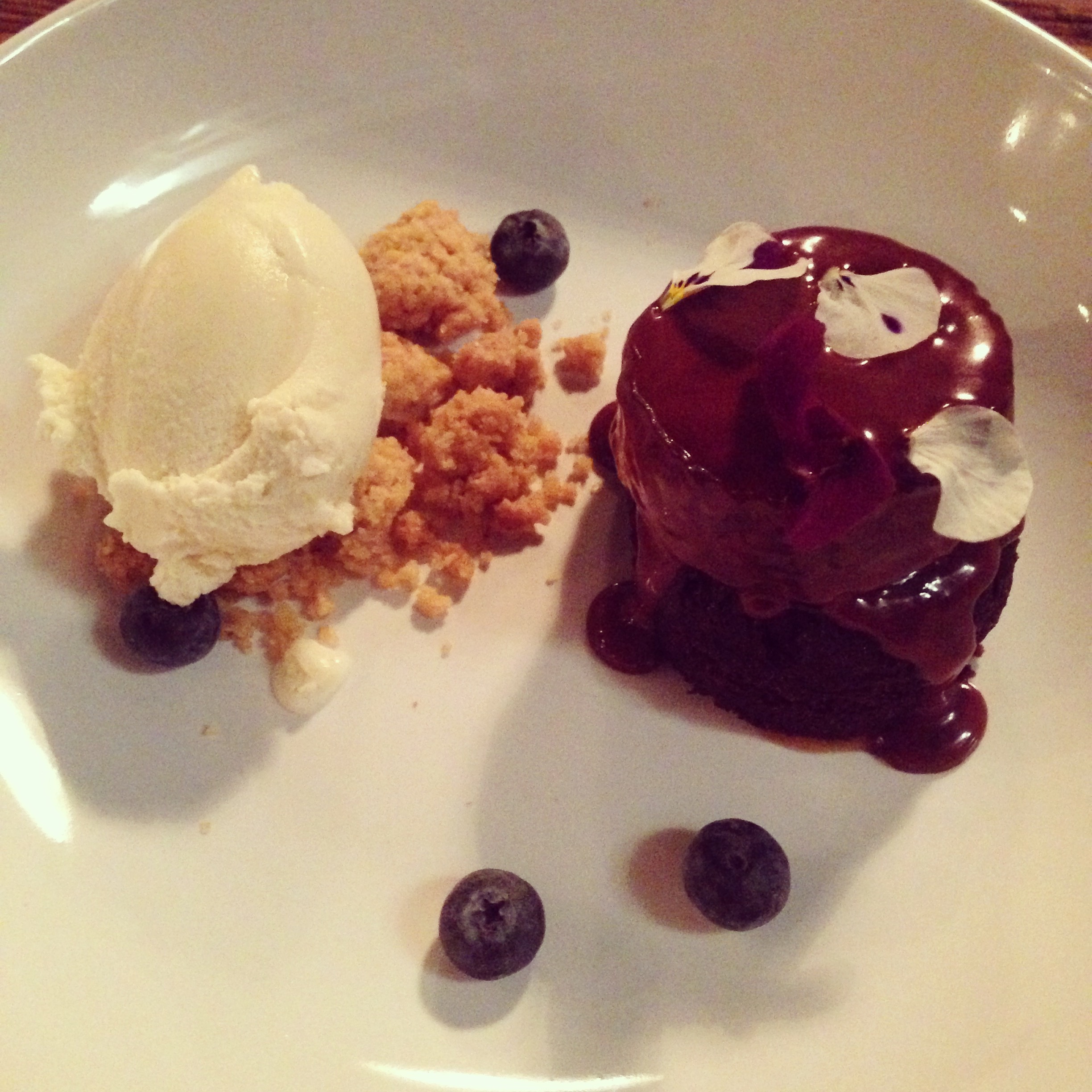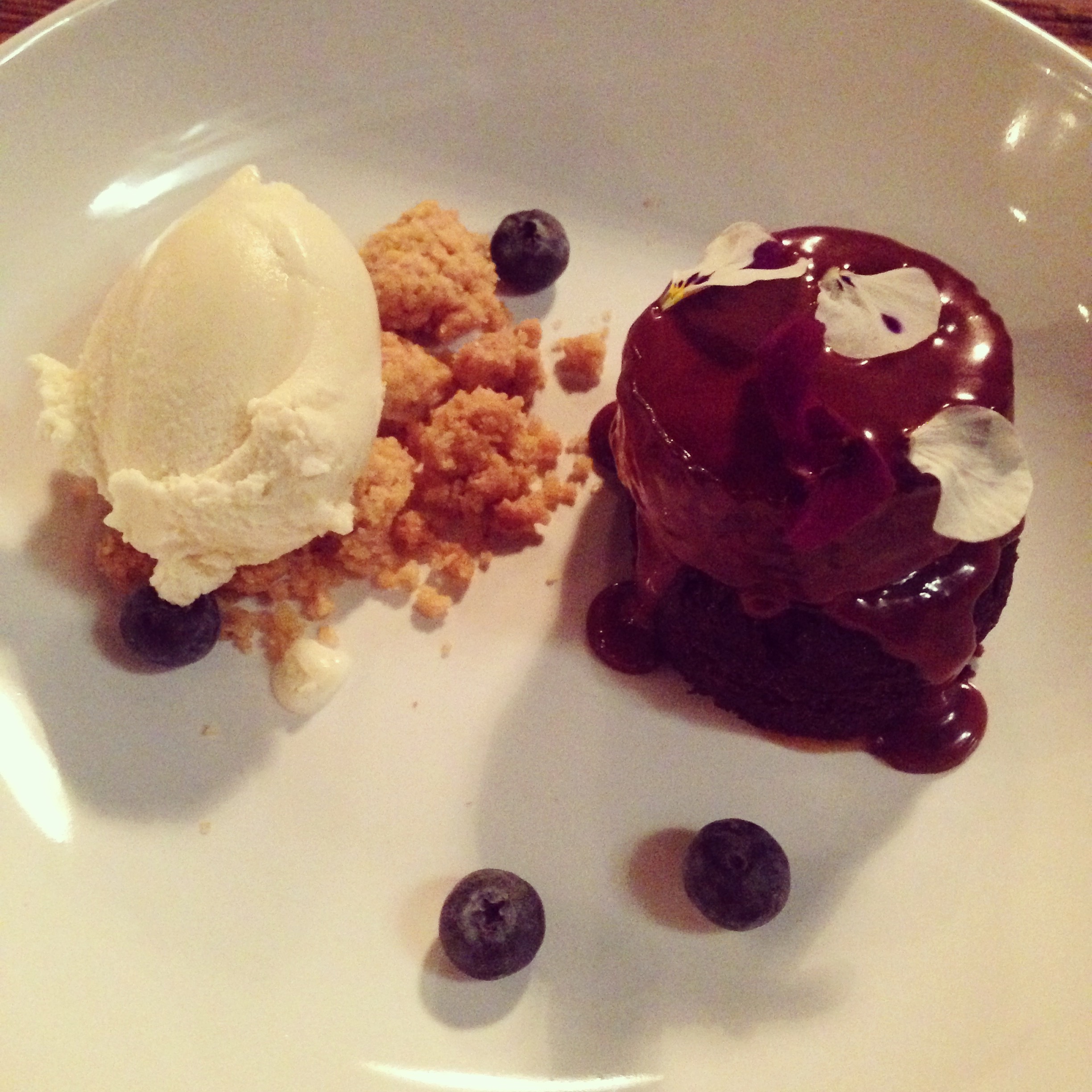 Day 8 –
I needed a day on my own, for my own sanity. If I spend too much time with any one person without a break I stop being able to hear my own thoughts clearly. I also still haven't learned to hang out with a man that I want affection from without projecting what I imagine his thoughts might be about me at any given moment and they are almost always negative. I told Schnitzel I had to be alone and left him at the apartment working on his writing.
I caught a taxi across town to get a massage at 5 elements spa, my very intense driver gave me lots of sweets and insisted on attempting conversation for the whole journey despite a language barrier that neither of us were able to bridge. There are two locations for 5 elements day spa; the Balinese one is on the Buda side of the river and the Thai one on the Pest side. I went to the Thai one, tucked away hiding in plain sight on the busy Szent Istvan street. The mood is set as soon as you walk in with soft atmospheric lighting and the smell of geranium and clean hippies. I was given a pair of slippers to swap my shoes for and asked to pick my massage oil and choose which kind of jasmine tea I would like once I was all done. This little woman came padding down the stairs in wide tie around trousers, and lead me upstairs to lay on a kind of futon thing so that she could push and pull and rub and stretch me and make me live inside my body instead of my head for brief blissful moment . It cost £29 to get what had been described on the 5 elements website as "Thai oil massage – a celebration, sumptuous feasts and fairy skin, muscles and olfactory receptors. This is a jazz concert for your back, arms and legs, it's a salad of exotic fruits to your neurons, a bouquet of strange colors for your receptors". How could I not go for that option? It lived up to it's description completely as well.
There was an app that as a godsend the whole time I was in Budapest, as it has been on many other trips for me – Galileo. Galileo is the best offline map app I have found, it allows me to import other maps (thank you to Ben Lloyd for his comprehensive coffee maps) and to spend ages adding bookmarks before a trip so that when I am walking around I instantly know if I am walking near something I had planned to see. The downside is that I am staring at my phone far more than I would like to be instead of taking in my surroundings and discovering things naturally. I spent my alone day with my eyes to the map ticking places off my to-visit list while I enjoyed the space in my head that solitude had carved for me.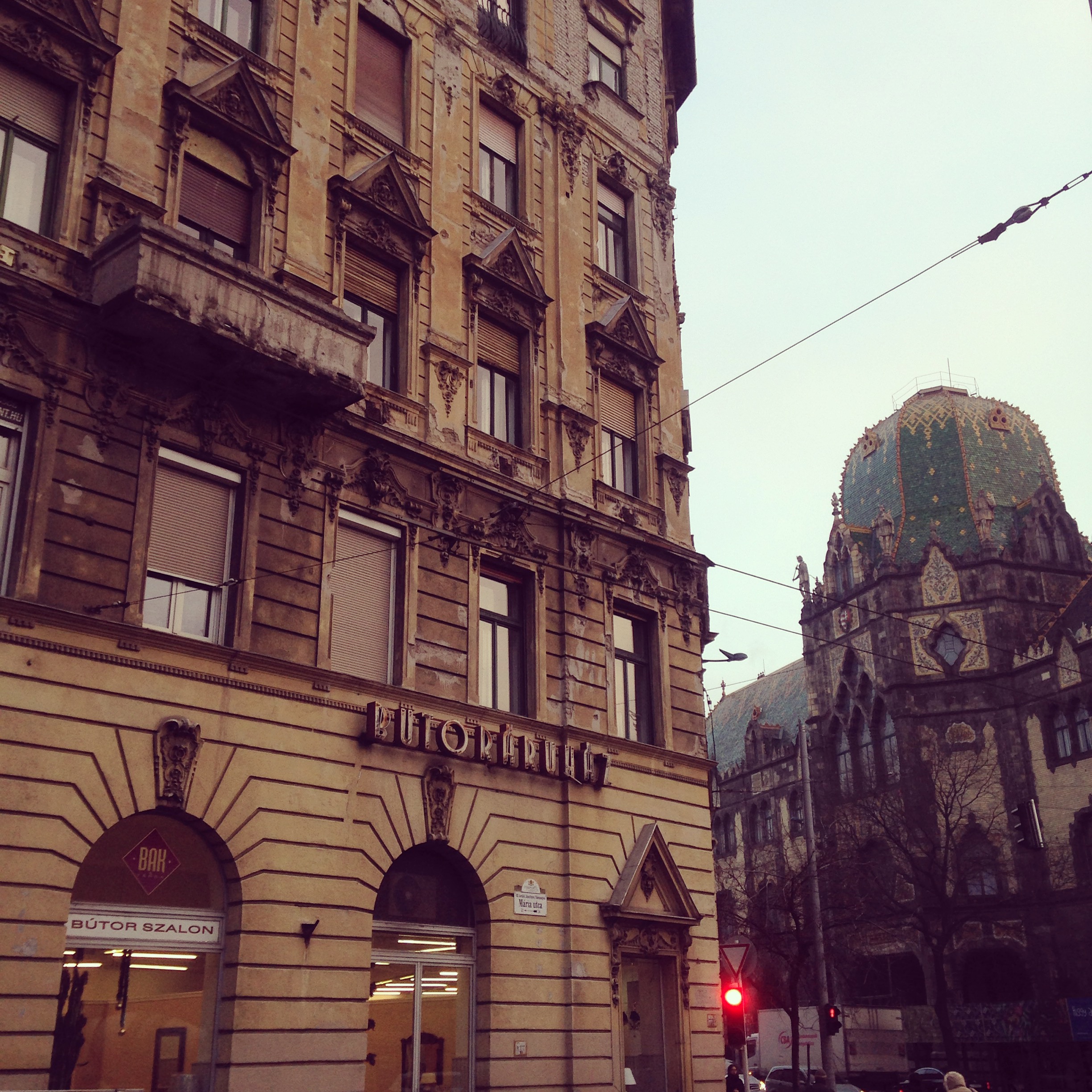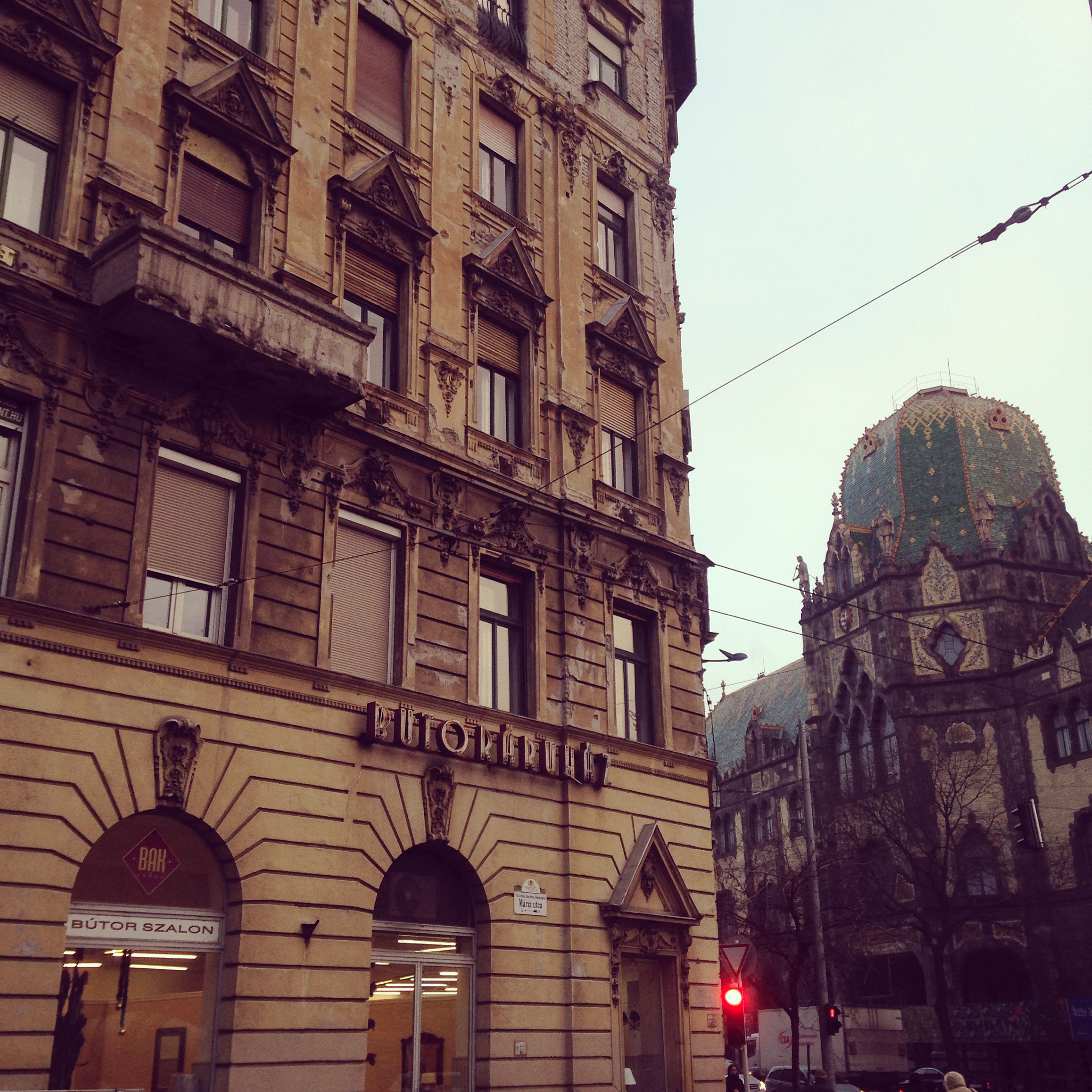 I was ready to hang out again come dinner time but so bored of walking, so we went for dinner at the first place we found after leaving the apartment, a pizzeria on Dohany street. Considering we went to Il Terzo cerchio because of proximity rather than recommendations it's pretty impressive that it turned out to be one of the best places we ate at on the whole trip; a spot it shares with Marvelosa and Laci Konyha. I started to suspect it might be legit while we waited for a table and I realised that almost all of the diners around me were speaking Italian, fully confirmed when I put the first slice of sublime. wood fired pizza in my mouth. I was so stuffed and satisfied with my meal that I didn't even mind that the bill took about 40 minutes to come, almost a whole five minutes longer than it had taken us to get the bill at any other restaurants there. Maybe it's a Hungarian thing, am I meant to be going up to the counter to ask to pay? Tell me.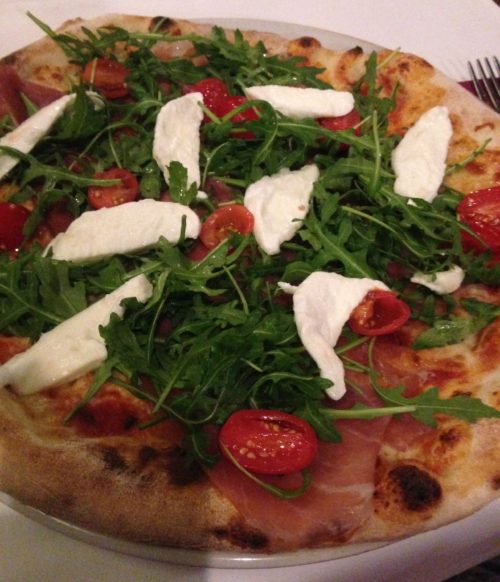 Day 9 –
We ducked and dived through the the bustling Christmas market and stopped to look at things that I knew I had no intention of buying; lampshades with Jesus' face on them, a thousand sweet smelling soaps, extended families of badly painted babushkas and goat suede gloves in every colour of the rainbow. You don't go to European Christmas markets to actually buy stuff though, you go there to take in the sights and the smells and the sounds and, as an adult, to help stoke the embers of your festive spirit.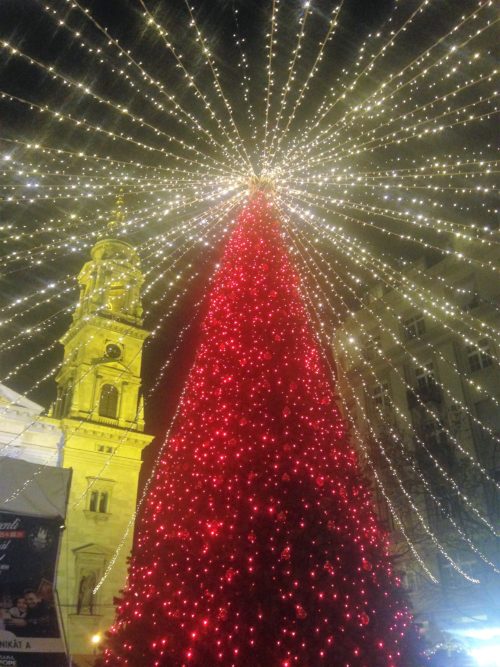 I spent a week in New York with Schnitzel last February and he took me to Vesselka, where I ate a stuffed cabbage so good that I ditched pretentious asparagus parading around in it's parma ham jacket as my favourite vegetable and crowned Cabbage as the one true king of vegetables and my heart. The day before I landed in Budapest Schnitzel sent me a whatsapp to inform me that he had just been at the Christmas market and had eaten a stuffed cabbage that had surpassed Vesselkas. I suspected he must be wrong but I could't prove this until I sampled it too. It was an admirable attempt for sure, but it was like comparing the smartest person in your school to Einstein, every other stuffed cabbage must bow down to Vesselka's. The sausage however was one of the best sausages of my life, I hope whatever pig died to give me that much pleasure feels proud of it's contribution to the world, sweet little porcine Jesus. The cabbage and heaven sent sausage some kind of potato pancake and a generous dollop of sour cream and we drank warm fruity tea with it that tasted like Ribena.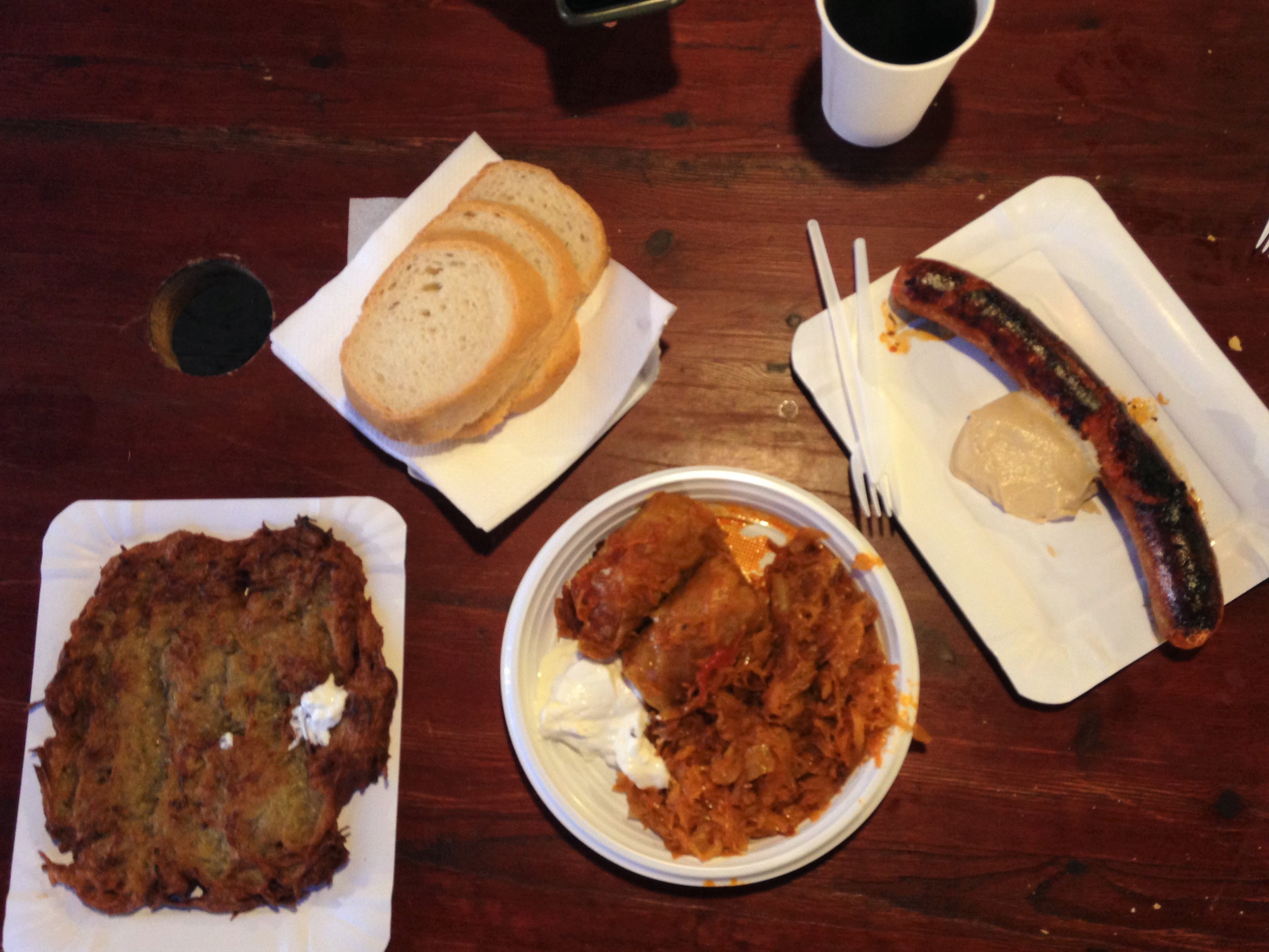 Dinner was at retro eatery Firkasz, a restaurant set up by former journalists with typewriters and pencils adorning the walls. I let Schnitzel order and I'm pretty sure he purposely chose the least ethical foods he could find on the menu. If I'm going to eat a meal that's going to send me to hell. I want it to be worth burning for eternity and my flavourless Foie gras and veal were not worth eternal damnation, they weren't even worth ten minutes in purgatory. I don't want to shit talk Firkasz because every member of staff is hilarious and I know they are capable of wonderful food, as I have previously eaten a regal stuffed cabbage and sausage there while the twinkly eyed pianist played the saddest cover of The sound of Silence.
Since the two of us were eating like bastards I decided to act like one (remember, it's the pills fault) and told Schnitzel that I probably wouldn't ever see him again. I just typed out why I did this (it was me being a dick and not him at all) and then remembered I don't have to expose every ugly or insecure thought I have and all the stupid reasoning I am capable of, so I deleted it (but just so you know I'm not hopeless I did a whole 50 minutes on why being a dick feels good sometimes in therapy the week after and it made me google slaa meetings at least. Next session I will work on my over-reliance on parentheses).