This is going to be a new feature for the site, culinary (mostly, semi, partially, whatever) and emotional travel diaries. If you are interested in doing your own one then please email us.  (all photos  taken by me.)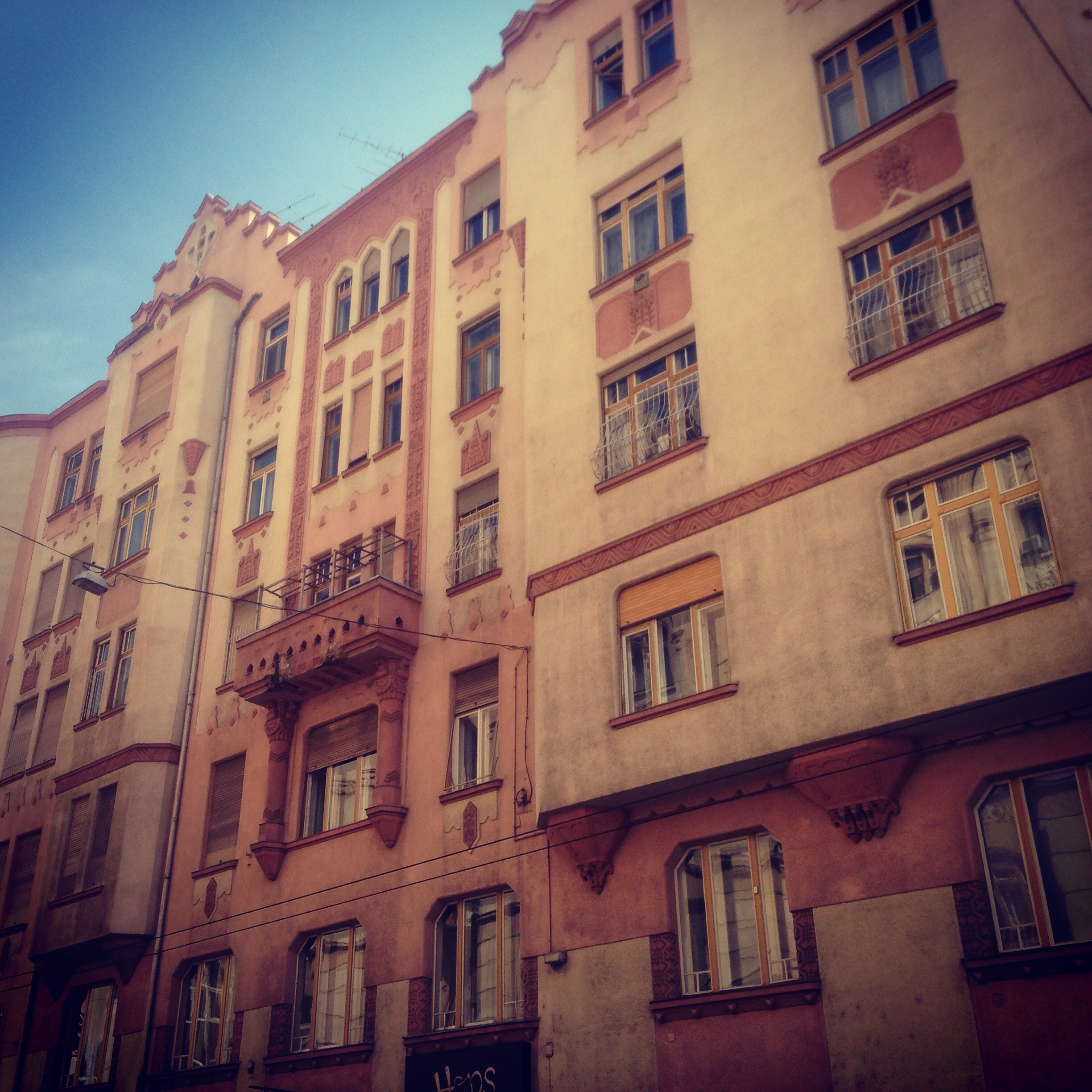 Day 1–
The 10mg of Diazepam I had taken for my flying nerves had just kicked in and I was nodding off when the guy in the seat across the aisle from me decided to strike up a conversation. I guess we felt like comrades in arms since Wizz Air (That fucking airline. The flights themselves might be cheap but they will find ways to make you pay, literally and figuratively) had tried to fuck us both out of an extra £50 for our hand luggage. "So, are you English or Hungarian? You look like you could be either". We chatted for the rest of the flight; about politics (he is a staunch capitalist), things to do in Budapest (I wrote him a list) and how much he hates to travel alone (the gist of the reason for this seemed to be that he wanted a wife to take selfies with in front of Alcatraz). I'm usually a fan of chatting with strangers but I had really wanted to spend my flight either napping or doing crosswords. His enthusiastic conversation wore off my valium fuzz, yet I was still dopey enough to leave my wallet in the taxi we shared form the airport to the Jewish quarter.
I fell in love with Budapest when I visited with Sophie in April but I was out here this time to see my friend Schnitzel (not his real name), who has temporarily relocated from the States following Trump's devastating triumph. I just tried 20 times to type a sentence explaining what my relationship to Schnitz is, and it's not that it is complicated but there are no phrases I like. Lover? I only feel comfortable saying this when my voice is husky and I am wearing a silk kimono (and pretending I'm Mae West). Also doesn't cover that we're more friends than anything. Fuck buddy? Crass, the word buddy sounds so weird. Friends with benefits ? Call me a pedant but all friendships have benefits, it's just that sometimes the benefit is their Vons card and sometimes it's an orgasm.
Zeller bistro is a cosy little cellar restaurant that serves food from the Transdanubian region of Hungary, it was just down the road from Schnitz's apartment so we bundled up in warm clothing and headed there for a late night dinner. They accommodated us despite that fact that they were 10 minutes past closing time, and not only that but they shoved glasses of some kind of fizzy booze in our chilly hands before we were even in our seats. Schnitz is a recovering alcoholic and I am on medication that I'm not meant to drink on but it felt rude to rebuff such generosity so I took two for the team and reignited the slow burning coals of a valium fuzz.
I think we both fell in love a little with our waitress, who was this beautiful and hilarious woman in big rimmed seventies style glasses; . "Come on! That's so boring, you can't order that" was her response to us tasking for the chicken supreme from the menu ,and she made being chastised so enjoyable I wanted to find more ways to make her irate, I wanted to be her annoying sidekick and bask in the warmth of her hilarious criticism. I was waiting outside in the cold for my taxi to drive back with my wallet when the venison she had instructed us to order arrived, one main to share between the two of us. The food was tasty but it didn't steal the show from the atmosphere of the place.
Day 2-
I came to Liberte on my own last time I was in Budapest, drank a pink palinka based cocktail called 'A Mobsters heart' (ordered purely for the name) and chatted to a man from Mobil, Alabama at the table next to me who had just returned from the Democratic Republic of the Congo. I loved the interior design, they've gone for a vintage American diner look but there's still a touch of old fashioned Hungarian elegance. The building housing Liberte was a formerly a prison that held Hungary's first prime minister and after that a cafe called Szabadság Kávéház (Freedom Coffee House) that was a favourite haunt of the poets and literati of early 20th century Budapest.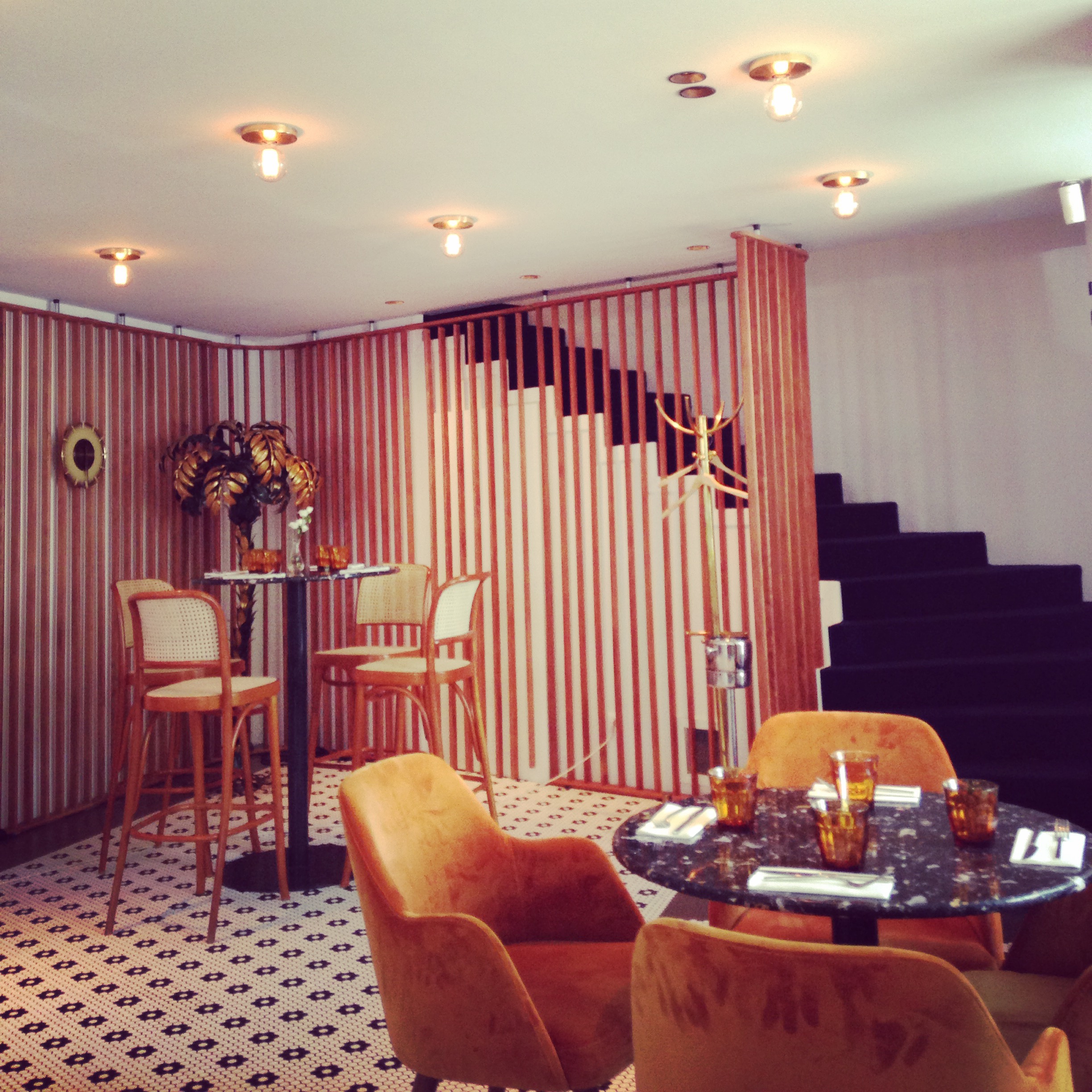 In line with the decor the breakfast menu has an American brunch feel to it -sitting proudly next to the more continental breakfasts there is french toast with cinnamon and an avocado toast with poached egg that I'd loved last time I came and was looking forward to eating again. We were too late, and got the main menu, much to my dismay. It's not a bad menu, but it's busy and feels confused and when a menu is confused I get confused and I order badly, which is why I take no responsibility for ordering a plate of Hummus with flatbread. I needed a waitress like the one from Zeller but nobody told me off and I was punished for boring ordering with the dip equivalent of an accountant called Colin. Of course it is entirely possible that my stinking cold had diminished my ability to taste, but my tastebuds were working well enough to get an agonising pang of food envy when I tasted Schnitz's beautiful rich butternut squash soup. I will say this for Liberte, I've never seen my reflection look as good as it did in the mirror of the bathroom there. I'm not usually the biggest fan of how I look but this light was like magic, I wanted to take a photo to capture how I wished my face always looked to me and everyone else, I wanted to stay in that room and stare at my reflection until I lost the will to live.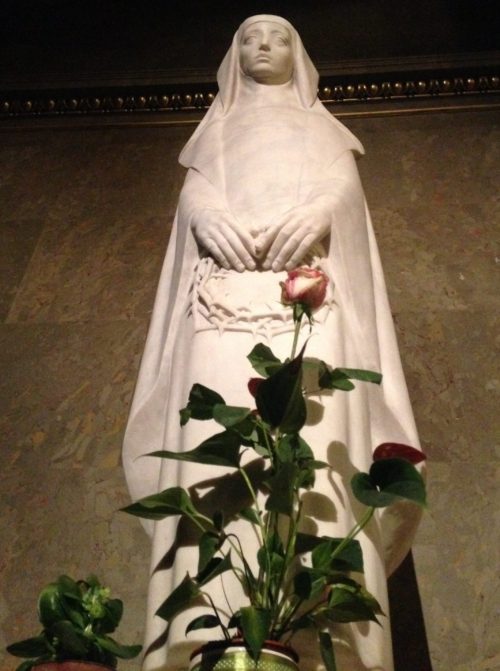 I had a stinking cold before flying out to Budapest but as we walked in the cold from the Liberte Grand Café to St Istvan Basilica I could feel the sensation of cactus rapidly growing inside my throat and my voice creeping away to enjoy a holiday of her own. I'd consumed an entire small pot of honey at Liberte to try to keep it at bay, but to no avail. The basilica is the obscenely ornate home to a small statue of one of my favourite saints, St Rita; the patron saint of loneliness. The interior of the basilica is grand and gilded but ultimately left me cold and unmoved. The highlight of the whole place is the displayed fist of a dead saint king (Saint Istvan, the man the basilica is named after) in a small chapel. You have to put 200huf into a box to make it light up, and being in an exceedingly uncharitable mood I didn't want the people around me to view it on my dime. I gripped my money in my pocket and entered into a kind of Mexican standoff with the gaggle of puffer jacket clad tourists. They won, my need to take a photo of this rotten fist of a man I knew nothing about trumped my selfishness.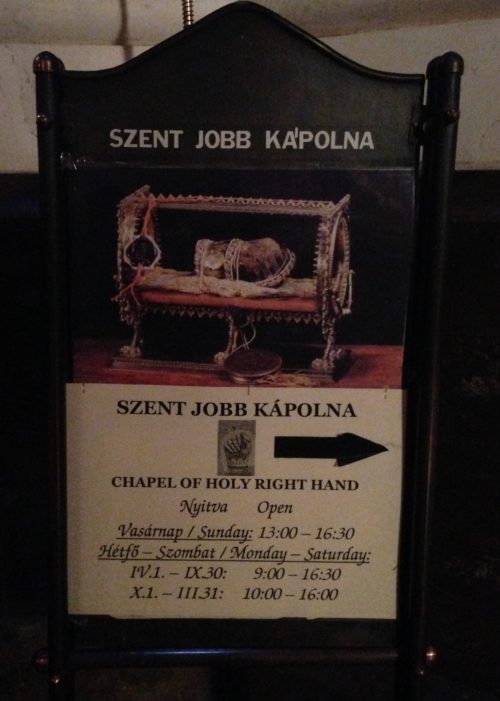 Dinner was at a Vietnamese restaurant called Sao. Schnitz has a very American approach to foreign languages, a just-don't-bother approach, a my way or the highway kind of thing, an unapologetic refusal to say so much as a "sorry" in the native tongue before bulldozing ahead in English. He approached the waiter and simply said, "2", there may have been a fraction of a question mark. "2 what?" the waiter was sassy with us but we deserved it. My vocal chords were fully out of operation at this point so I didn't try to make up for it by pulling out my handful of wonkily pronounced youtube-learned Hungarian words. The meal was so-so, you can't get dumplings too wrong and those were nice and my soup felt more heat than flavor though but more than anything I felt like awful company, trying to mouth words that Schnitz couldn't understand before I gave up and realized we had no option but to sit across from each other in silence like an unhappy married couple.
Day 3 –
I took two pseudoephedrine that Schnitz gave me when I go up in the morning to clear my congestion, he'd had to sleep onto the sofa due to my loud (and out of character, by the way) snoring all through the night. I didn't realize they were uppers as well and felt like I'd had a triple espresso. We didn't catch a train or bus the whole time we were in Budpest, just walked everywhere, unfortunately I don't think I managed to burn even a fraction of the cake I consumed. We crossed the chain bridge and walked the big old hill that leads up to the citadel and fishermans bastion. I would have been worn out usually but my legs were being moved by the holy power of pseudoephedrine, marched up the hill while I cast smug glances at the crowded funicular.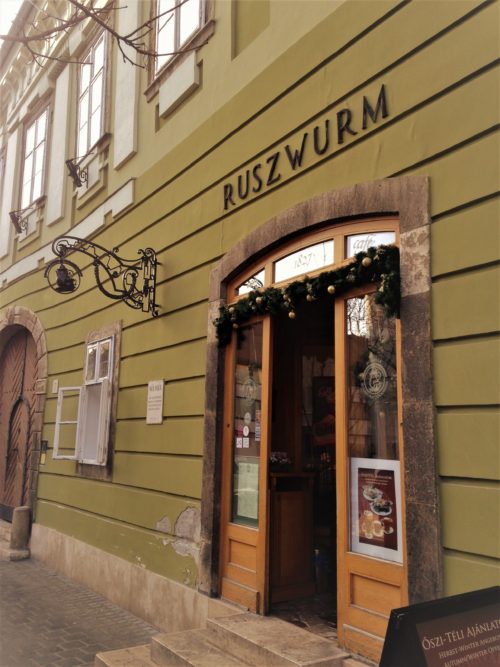 The reward for making it to the summit was a slab of chocolate and marzipan cake the size of my head from Ruszwurm Cukrászda, a bustling miniscule café that's been open since 1827. Some part of the voice was coming back, I sounded like a mouse with throat cancer while croaking "beszélsz angolul?" (do you speak English?) to the lady behind the counter. Schnitz told me I didn't need to bother asking if they spoke English since if they did then I could ask in English and they would understand and if they didn't I couldn't speak any more Hungarian so there was nothing I could do. I sat on the rim of a statue in front of the beautiful Matthias church and inhaled that wedge of cake so fast that I was confused when there was nothing left in my hands but crumbs and smears of icing.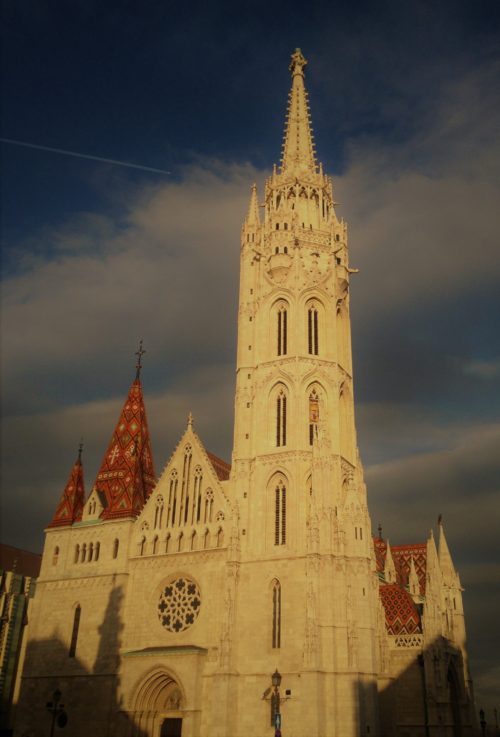 There's nothing like walking in the cold all day to make you feel like you deserve hours of thermal pools and steam rooms at the closest bath house. Rudas baths was first built in 1550 during the rule of the Ottoman Empire, it re-opened in 2009 after being closed for a period. Women can only access the pools on Tuesdays and at the weekend so we were lucky that it was a Saturday when we went as I had no idea. Once in we wandered through past the thermal pools and sat in a massive rooftop hot tub overlooking the twinkling lights of the city. Most of the people in there had their phone and were taking photos. I wanted to be satisfied with sitting in hot water with a friend and taking in the beauty of the city laid out beneath me, instead I wondered about that old tree falling in the forest conundrum. Did this moment even really exist if it wasn't on instagram? When I have thoughts like that I want to give my brain a good scrubbing. Maybe I am somehow cleansing myself of that thought by admitting it. I have since removed Instagram from my phone.
There were two people who had given Schnitzel recommendations for places to visit in Budapest, one was a Hungarian fashion designer who was a friend of a friend of Schnitz's and had managed to hook him up with list for Budapest member's only club Brody Social. The other was a girl that Schnitz had been on one date with in New York and stayed in touch with, she had previously spent a semester in Budapest on some kind of exchange programme. We'll call the guy Peter and the girl Penelope because I cannot remember either of their names.
Peter had sent a very informative email with lots of tips but the restaurant Marvelosa came recommended in frantic capital letters with multiple exclamation marks, we were obliged to check it out. The beautiful Art Noveau font spelling out the name of the restaurant belies an interior so chintzy looking I felt like I had wandered into a short sighted Granny's sitting room. I was entirely ready to be underwhelmed.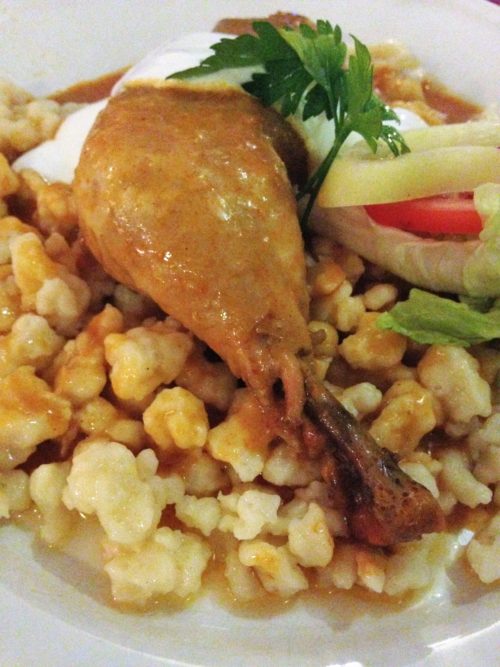 I ordered the chicken paprika with homemade pasta from a waiter whose identical twin brother appeared to also be working there.  I may have disliked the interior but I feel like the design came from the same place that made the meal I had there one of the best meals of my life, the owners desire to make somewhere that would make diners feel like they were relaxing at home. I wanted to write odes to my dinner, long love letters from back home, gushy poetry. It's comfort food dialled up to 11, the kind of grub you imagine other people's perfect Grandparents cook for them when they're poorly or sad. The chicken was flawless but it was the homemade pasta that made my eyes wet with happy tears, if you filled a bathtub with that pasta I would eat it all, I would eat it til I burst at the seams, I'd eat it until it killed me.