My original plan was that I would somehow get hold of Puff Daddy, I would grill him about his and Biggie's favourite old haunts in Brooklyn and the two of us would go on some kind of crazy restaurant crawl, at the end of which we would be best friends. Puffy never got back to me, so I settled for the information provided by a 2009 Time Out article on some of Biggie's favourite eateries, as far as I can tell their information in turn was provided by Biggie's old manager Wayne Barrow.
I happened to be in New York at the same time as a Canadian friend of mine, and he asked if he could accompany me on my Biggie tour. I'm going to call this friend Colin, it's not his real name but it's the one he deserves. Colin and I were meant to meet on a Saturday evening by Juniors. I wrapped up against the cold and got on the rail replacement bus across Brooklyn. Canadian Colin was a no show though, he got distracted by fighting with his girlfriend on the telephone. I took the bus home in a bit of a bad mood, but glad I could do the walk at my own pace in the daylight the next day.
My Sunday morning stroll started at 226 St James place, in the Bed-Stuy neighbourhood ("I'm the high guy from Bed-Stuy, putting the swelling on your eye") of Brooklyn, where Biggie lived in an apartment with his mother, Voletta Wallace, until he was 20 years old.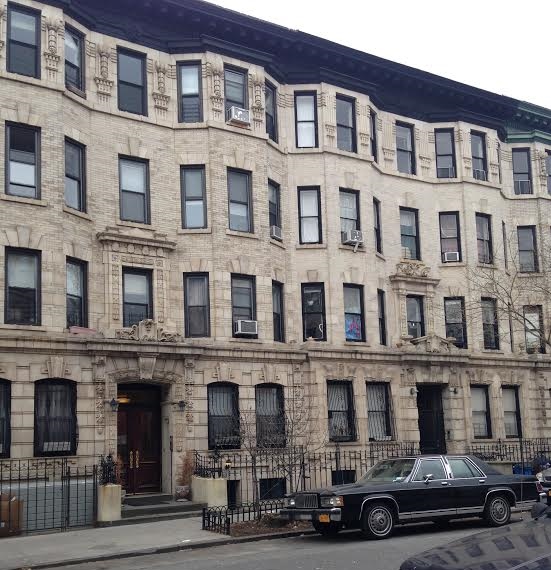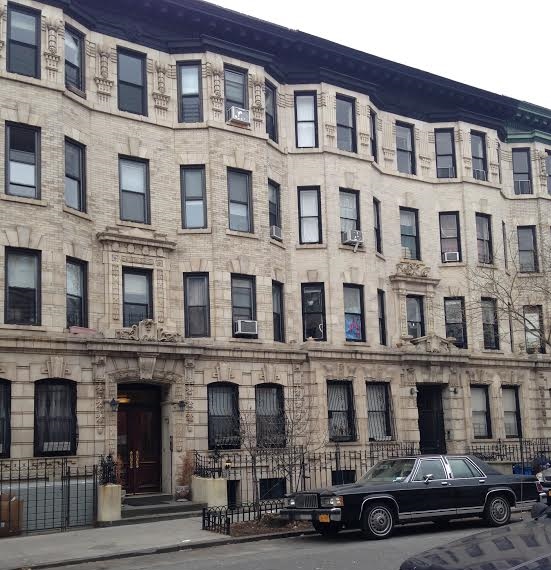 After checking out the building he lived in and wandering aimlessly around the supermarket he used to work as a bag boy in, I walked over to the Golden Krust Caribbean bakery and grill. Golden Krust is a Caribbean fast food chain with 29 locations in Brooklyn alone. According to the article/Wayne Barrow, Biggie would get patties here, and he liked them spicy. I ordered the spicy beef patty. The pastry was delicious and flakier than Canadian Colin, the filling was warm and hearty and seasoned nicely. It was decent food for under $3 and kept me filled up but it really wasn't hot enough for my liking. You call yourself spicy and I want my lips to be tingling, I want to be in desperate need of a can of ginger ale, I want my cheeks to flush pink like Biggie just finished shifting my kidneys. There were two women sat at the high table next to me, well one was sat and the other was mostly pacing the floor and gesticulating, she was asking the guy behind the counter, for the third time, if he was sure he didn't have any jerk chicken patties left. Her friend tried to convince her to settle for a spicy beef patty instead, "I don't want to waste the calories on it", she replied, "I've got to get down to 170 before my birthday next week, I only want to use those calories up if it's on jerk chicken". There you have it, the golden Krust beef patty, good value and decent but potentially "a waste of calories". You're spoilt for choice when it comes to West Indian food in Brooklyn and there are plenty of independent eateries that are well worth having to make a new hole in your belt for.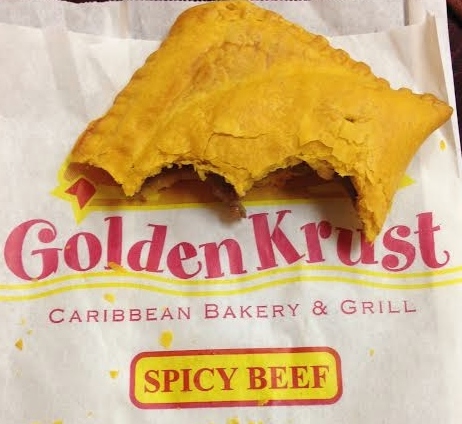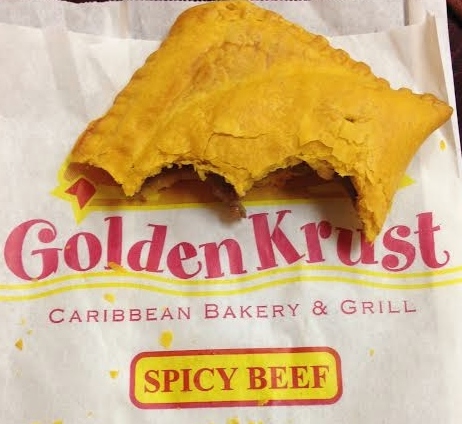 Walking the mile of Fulton street from Golden Krust up to Juniors on Flatbush Ave I came across this building with Juicy lyrics "Spread love, it's the Brooklyn way" written on the front, and this mural of "Commandte Biggie". The residential building at 690-694 Fulton Street is owned by Sean Meenan, and called 'the Brooklyn Love Building'.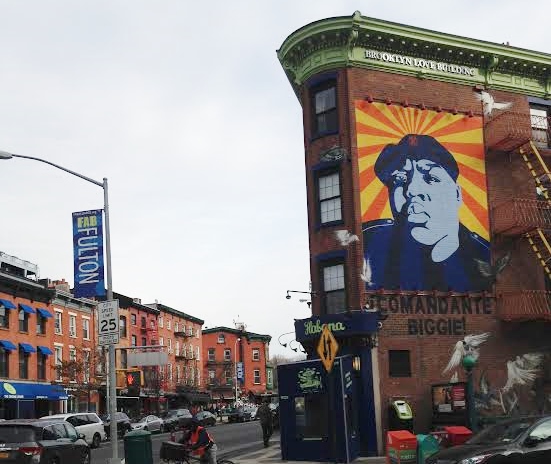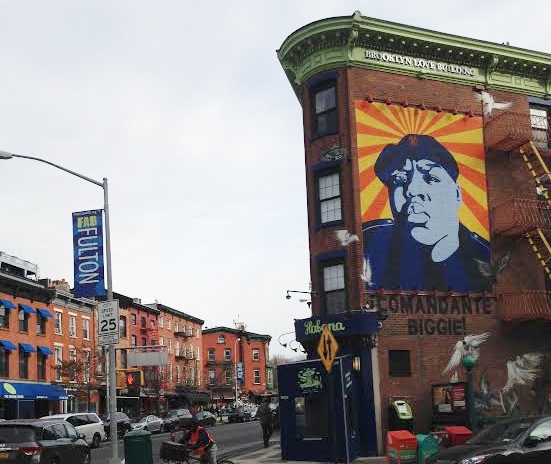 Last up on my little tour was Juniors Restaurant, founded in 1950 by Harry Rosen, where both the exterior and interior still look wonderfully fifties. I hadn't heard of the place before reading the Time Out article, but they appear on so many top ten best cheesecakes in New York lists that one has to explain when publishing a list that omits them. I got talking to my Irish immigrant rail replacement bus driver on my first attempt to do the Biggie walk, when I told him I needed to get off near DeKalb ave his response was "going to Juniors then?", he then seamlessly jumped into a monologue about how much he makes driving buses and what a good life it is but boy does he miss county Cork.
The massive dining room is adorned with the photos of the famous people who have eaten there and the yellow walls closest to me were covered in baseball memorabilia and signed photographs of athletes that are probably octogenarians now. I had read that there was a signed photo of Notorious B.I.G. somewhere, I couldn't find it anywhere. I did asked a waiter but he had no idea who I was talking about, despite me listing all of Biggie's various monikers.
My super sweet and heavily pregnant waitress took about twenty minutes to actually come and take my order. It doesn't seem like the kind of place that young lone diners go to very often, maybe they assumed I was waiting for someone else. I am good at dining solo usually but I became hyper aware of my aloneness, it could have been from missing my meds or it could have been surrounded by happy families fresh out of church. There was a man and a woman sat at the table to the left to me who kept looking over, I eavesdropped most of their conversation and discovered they were cousins. There was a tall important looking man in a three piece suit a few tables down with a tiny nicotine stained and moneyed old woman rocking a fur coat and a dyed perm, they had a photographer with them too. I heard some whispers (from the cousins next to me) that he was the assistant manager of a basketball team I've never heard of. On the table to my right was an au-pair and the boy she looked after, he was probably about 8, they were sipping lemonade through straws and taking each others photos with an old fashioned slr camera. A Vivian Maier in the making, maybe. The only other lone diner was a crotchety old lady a few tables away from me who was moaning, to nobody in particular, that the pregnant waitress had sat down for a couple of seconds, and "I've been coming here since I was a little kid, I've never seen a waitress sit down before. Never. Not once. Not ever".
I ordered a coke and a slice of strawberry cheesecake, aka diabetes. You can't really tell from the photo what a total beast this slice of cheesecake was, trust me that it was massive. It was the Christopher Wallace of cheesecake slices. There aren't many foods I really dislike, in fact if you asked me for a list of foods I hate it would come back with one word written on it (in bold, red, capital letters) JELLY. Do you see what is smothering the top of my slice, suffocating those sweet fat strawberries? Fucking jelly, or jell-o as the Americans call it. I scraped the odious substance off and tried to clean the fresh strawberries with my knife, I didn't want to be that dickhead who ordered a slice of strawberry cheesecake and then ate none of the strawberries. Even when they were almost entirely jell-o free each one struggled inside my mouth, feeling tainted, fighting against being swallowed and consumed. The cheese part of the cheesecake and the base were delicious but while eating them, and watching the people around me, and scribbling notes down in my journal, I started thinking….did Biggie like jell-o? Maybe we weren't soulmates that never had the chance to meet after all.