Illustrations by Chris Harward
On this day 19 years ago Biggie was killed. I was two weeks away from my 12th birthday when Christopher Wallace (aka the notorious B.I.G) was shot dead outside the Peterson Automative museum in Los Angeles, and I had no idea who he was. I didn't discover Biggie until I was 18, I moved up to London and my brother William gave me a mixtape to take with me, featuring 'Juicy' by Notorious B.I.G. I became obsessed. I sought out more of his music, bought all of his albums, and now (13 years later) he ranks alongside Leonard Cohen as one of my favourite wordsmiths of all time. He's not just one of my favourite lyricists, but if I was given the opportunity to bring only one person in the world back from the dead Biggie would be my number one choice. I'm sure I shouldn't say that as someone with one dead parent, but it's true.
I did not grow up in a "one room shack" in Brooklyn, eating "sardines for dinner" and feeling like "birthdays was the worst days" (although Big's mum Voletta says she always had good food on the table and the apartment had "seven and a half rooms") . I grew up in a 3 bedroom semi-detached council house in the English countryside eating 'volcano surprise' (mash potato, ketchup and whatever else is available) for dinner, and the only really mildly bad birthday I ever had was my 10th one when my mum made us evacuate the house in the middle of the night because she thought people were coming to murder us, oh and the one where my dad came round with indoor fireworks even though I was incredibly scared of fireworks wasn't great either. Despite our differences I have always felt a real kinship with Biggie and there is one thing I for sure have in  common with the late Christopher Wallace, I fucking love to eat.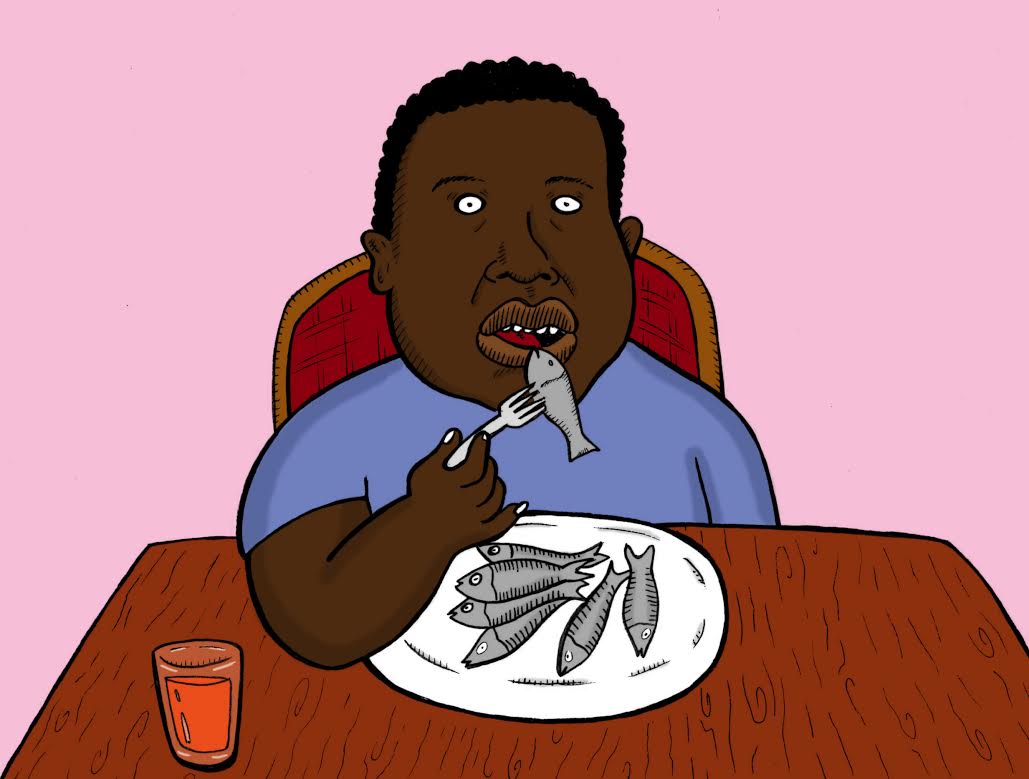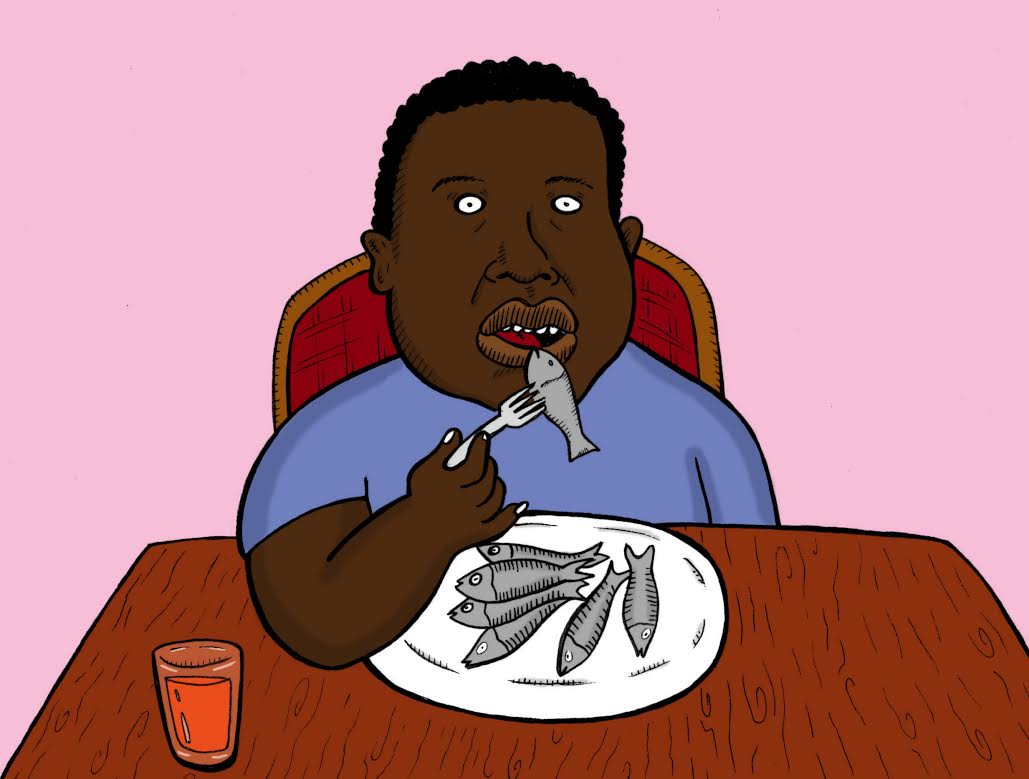 Three decades before Action Bronson started rapping about calamari and boudin blanc Biggie was dropping food references in his lyrics like hot Idaho potatoes. It's such a cliché to say, when talking about any overweight person, "they love their food". But even if his belly wasn't saying it Biggie's lyrics were. Sure, that "Oreo cookie eatin', pickle juice drinkin' Chicken gristle eatin', biscuit suckin', motherfucker" sometimes used food as euphemisms for money and women and arguments, but a lot of the time he was just rapping straight up about something he loved.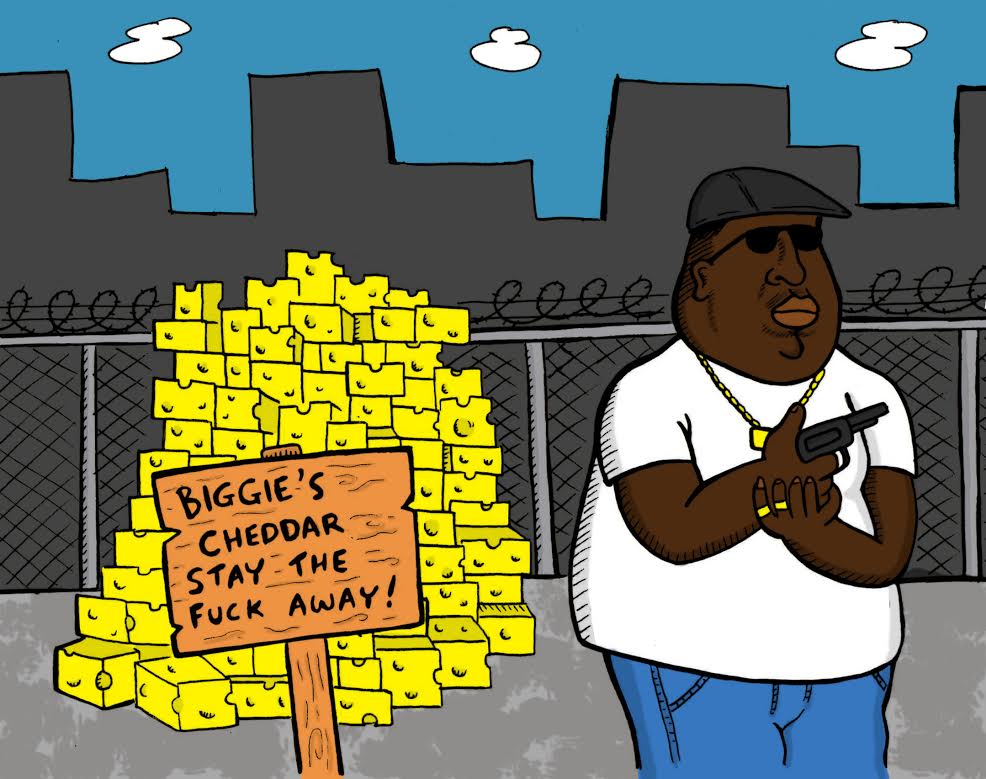 It has been reported that Biggie had planned to open a soul food restaurant in Brooklyn called Big Poppas. But if he had wanted to open a café, a restaurant, or even a bar that served only food and drink he had mentioned in his lyrics he'd have been able to do this and have a fairly extensive menu.
Here is the menu I have made for my imaginary Biggie bar and sandwich shop:
Cocktails
 'Moms is late'  (1.5 oz Tanguueray gin,   .5 oz Hennessy cognac, .75 oz fresh-squeezed lime juice, .75 oz sugar syrup – "Tanqueray and Hennessy until I cold hurl" – Respect)
'My Downfall' (3 parts bourbon, 1 part dark rum, 1 part port, Angostura bitters, Ice cubes – "My moms and pops mixed me with Jamaican Rum and Whiskey – My Downfall)
'E&J and Ginger Ale' (1 ½ oz VS, VSOP, or XO Brandy, 4 ½ oz ginger ale. ("fuck the past, let's dwell on the 500SL, the E&J and ginger ale" – One more chance)
'Juicy' aka 'the truce-y', as it was also one of Tupac's favourite drinks (

2 oz

 

Alize, 2 oz champagne – "the Moët and Alizé keep me pissy" – Juicy) 
Sandwiches
'The Brooklyn way' – toast with butter and honey. ("now honeys play me close like butter played toast"  – Juicy)
'Born Sinner' – sardine and salad sandwich. ("Remember when I used to eat sardines for dinner"-Juicy)
'The Medley' – Beef pastrami, cheddar (extremely high quality, the kind that you'd kill for), & mustard sandwich. (What's Beef?, "touch my cheddar feel my beretta" – Warning/"the cheddar breed jealousy" – '10 crack commandments', "who would ever think that you would spread like mustard?" – Dead Wrong)
'Big Poppa' –  thinly sliced steak, scrambled eggs with cheese, and Welches grape jelly all in one crazy sandwich. ("go fill my belly. A T-bone steak, cheese eggs and Welch's grape" – Big Poppa.)
'Pretty Face, No Waist' – Smoked shrimp and octopus ceviche sandwich ("Eating shrimmp a la carte, with some bitches from Brussels. Eating clams and mussels. Octopus." – My downfall)
'Mobsters Prosper' – Crab and lobster roll on homemade (dough lovingly kneaded) Brioche ("Deciding cracked crab or lobster" – I love the dough.)
Desserts
'Mama's love' – Butter crunch cookie and chocolate ice cream sandwich ("the milks was chocolate, the cookies, butter crunch" – Sky's the limit.)