Day 4 –
Massolit is a sweet little independent book store and coffee shop tucked away in the Jewish quarter. You (I, I'm projecting. I'm inviting you to imagine you are as useless as I am. I'm distancing myself from my own procrastination) have these grand ideas of sitting in a cosy little book store, drinking coffee and working on your writing. Schnitzel is off doing a street art walking tour with a bunch of French kids, but you're going to diligently write for hours, get the first draft of at least one short story finished. You're going to work towards getting published, being a great, going down in the history books. The words will flow out of you like blood. That's not how it goes down though, you sit at the table with your best pen (papermate fibre tip flair in black, a real beauty) and an enviable teal moleskine notebook and you write one sentence, one sentence written twenty different ways but they're all shit.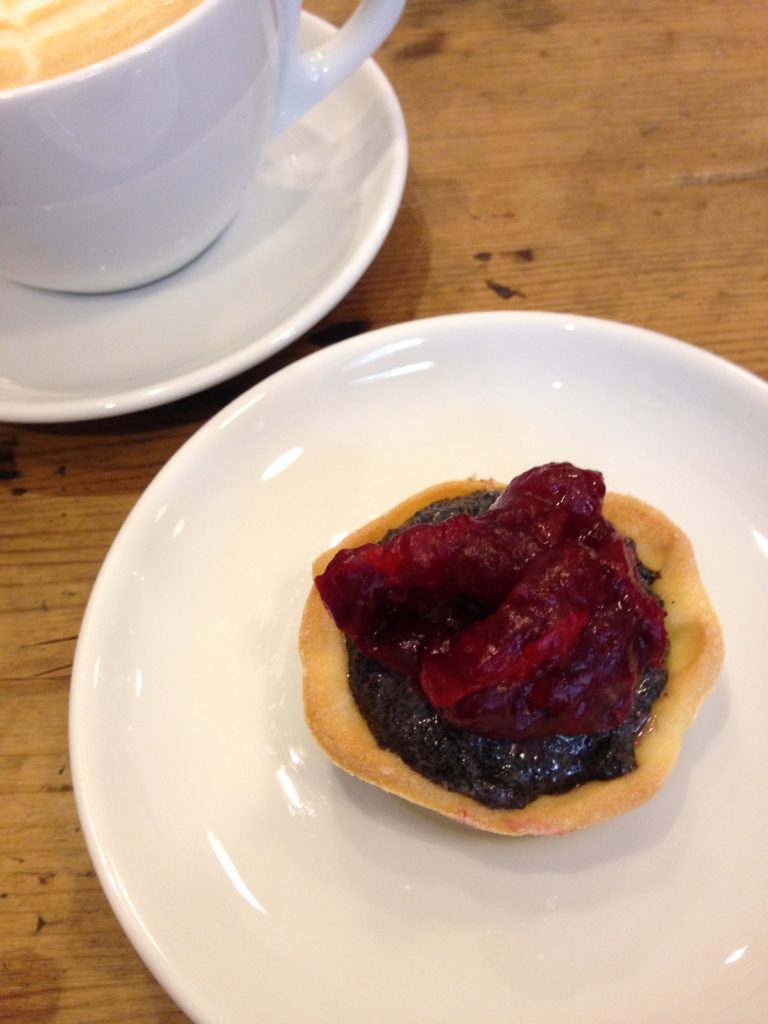 You go to look something up on your phone, because you got the wi-fi password at the same time as your tepid latte and yummy sour cherry tart, and a mere 2 seconds later you're forty minutes deep into a social media pit. You know what every friendly acquaintance thinks of the current news, you've examined and analysed at least twenty different Instagram posts, and checked up on three boys you've got crushes on in far away lands. Maybe if you go on wikipedia in between checking your whatsapp and iMessage then you can convince yourself you're only online to do research. We can call this research, you're sitting in a coffee shop doing fuck all because you have a very important piece to write about someone sitting in a coffee shop doing fuck all.
After reuniting with Schnitzel in a ruin bar we headed to the Szabo Erwin library, a place I had learned, from the Atlas Obscura website, housed a central library that had formerly been a 19th century aristocrats mansion. I studied photos of the comfy old armchairs, ornate ceilings with chandeliers hanging from them and decided this was the remedy to my writer's block. I needed to be surrounded by more books, and less coffee and wi-fi. It had not been my own fault, I could lay all the blame at the feet of my surroundings. I needed to absorb the energy of as many dedicated writers as possible, because surely it would be contagious. I was denied entry (for reasons still unclear to me) by the librarians who behaved like doctors receptionists, gatekeepers to a world of words that I had failed to earn access to.
I ended my day with a defeated latte at Lumen, a sweet little coffee shop-cum-art gallery with vine plants hanging over its beautiful patrons. My dreams of spending any part of my day writing anything decent were dashed but I thought at least I could sink into a chair and unabashedly just be a lame ass on my stupid smart phone. The barista pointed at a sheet of paper stuck to the wall when I asked for the wi-fi password, 'cafenotoffice. That dumb, sassy password was the last straw, I took my cough medicine and the spare diazepam and let myself float away on the waves of disappointment.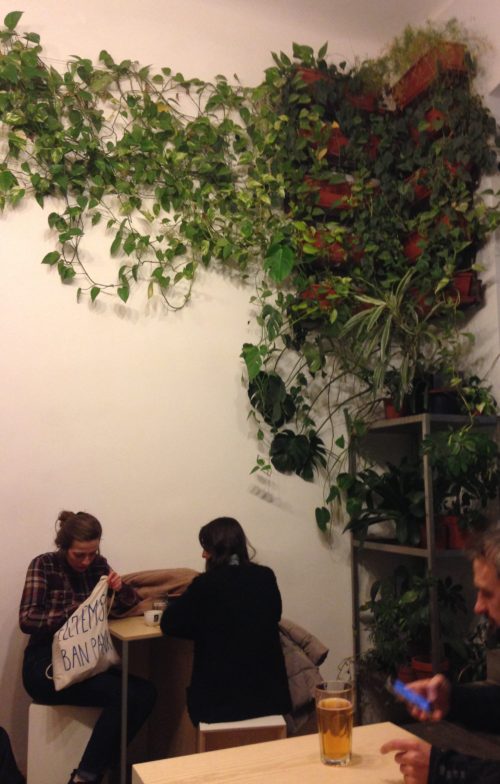 Day 5 –
Hipster is such an overused and frankly lame term, but I can't t think of a more appropriate word to describe Warm Cup, a coffee shop inside art house cinema ArtMozi that was also housing a pop up knitwear shop when we visited.  The place was all waxed moustaches and surly faces, and the best goddamn coffee I had the whole time I was in Hungary. After scoffing down a big flaky and buttery croissant I sunk into a seat and held onto my rice milk latte like it was the elixir for eternal life, why has nobody told me before that rice milk is the tastiest alternative to the real stuff? I was sad when we we had to bid adieu to the prefect coffee and head back into the cold, If I lived in Budapest I would happily make this my local spot to sit and pretend I'm working on my writing in.
I was in kind of a bad mood once we left Warm Cup, the kind when everything annoys you and there is no good reason for it and that in itself is even more annoying because you feel like an unreasonable asshole. I mean, I was being an unreasonable asshole. I was also annoyed with Schnitzel because we hadnt had sex the night before, and my shitty mind spirals in ugly and uncomfortable ways – he doesnt want to have sex with me because he doesnt find me attractive because I'm not attractive and I'll never be attractive which means I'll never be loved, I'm probably deficient in some specific chemical that makes people loveable anyway, something they wont discover exists for another three hundred years, oh god just let a cat eat my entrails now. I started taking the contraceptive pill just before going out to Budapest and I have never taken any version of that thing and had good results, it just fucks me up and makes me sad and hateful and hungry and spotty and despondent.  Anytime you read me talking about being an asshole during my time in Budapest, just know it was all the pills fault and not even the slightest bit mine.
Luckily there are some things that no amount of chemical hormones, or low self esteem can ruin for me. A big ass detailed miniature model railway version of Hungary is one of those things, it made me forget all my woes because I reverted to being a five year old. The miniature museums house more than just a tiny Hungary, they lead you to Germany via Austria as you walk through the rooms of Miniversum. There are 100 rail cars, 600 buildings, 1000 cars, and 5000 miniature cars there and every fews steps you'll find a bunch of buttons you can press that make you feel like a semipotent god – send a few cars whizzing around or make some church bells ring or some chickens peck their head. I could have stayed in there for hours upon hours pressing buttons, learning about communism in miniature, discovering new things in the scenes I was inspecting and imagining that I was a mean giant just about to stomp all the townspeople and their homes into oblivion but we were on a tight schedule and thought we could cram in the terror museum too.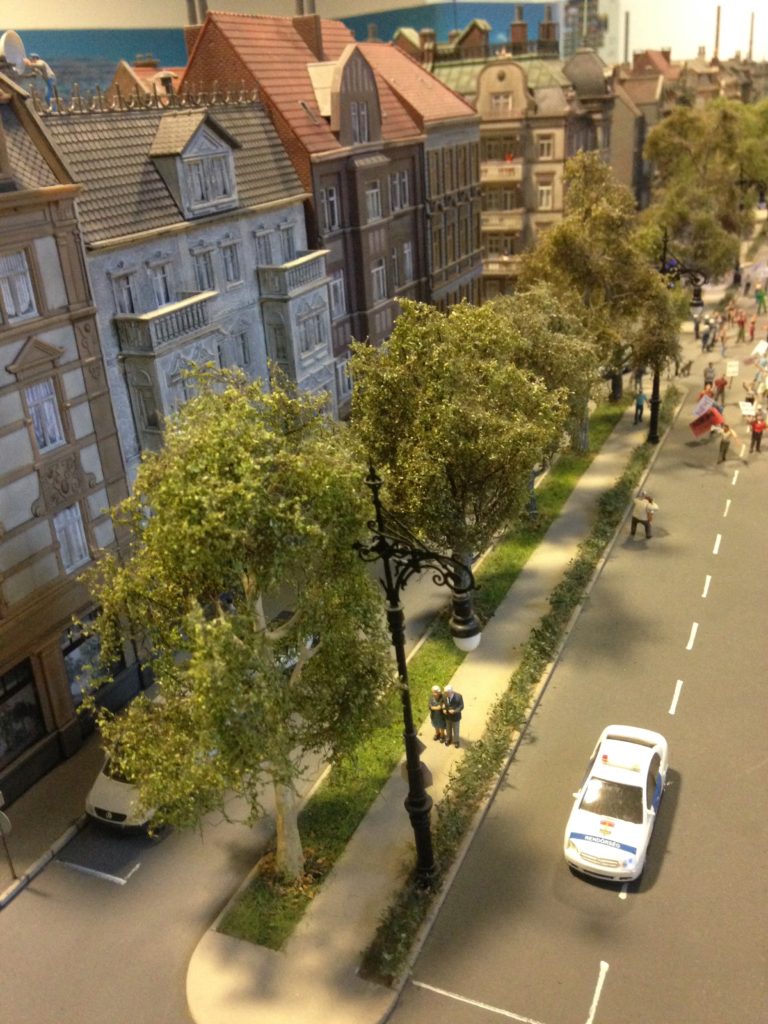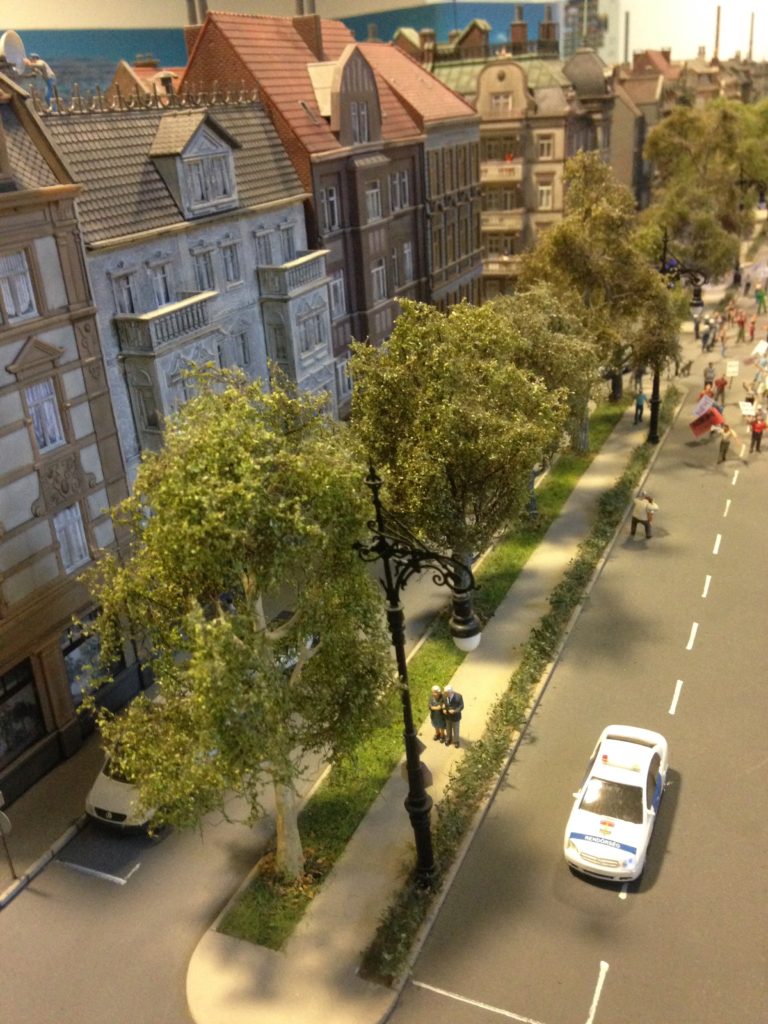 I recalled how overwhelmingly depressing the House of Terror museum had been the last time I had gone and asked Schnitzel if he could maybe wait until I had gone home to visit, it's informative and definitely worth a visit but once is enough. We walked home and napped instead before heading out to a restaurant called Menza. This place had come recommended by Schnitzel's old date Penelope, and also by Peter, I felt like a double recommendation made it a sure bet. The decor was very seventies, big monochrome floral designs on orange walls, floor lamps and high ceilings. I ordered a very confusing tasting buckthorn lemonade duck live pate for my starter from our overly and unnecessarily apologetic waitress. The pate came with an entire loaf of bread, toasted. and a whole fucking jar of onion chutney. It was a starter that could have fed a small family but, delicious as it was, it didn't satisfy my monstrous appetite. My main was a spaghetti carbonara that they apparently totally forgot to season, it filled a hole but I got no real pleasure from that hole being filled. I wanted a mouthful of salty, creamy comfort and I got a limp substitute instead.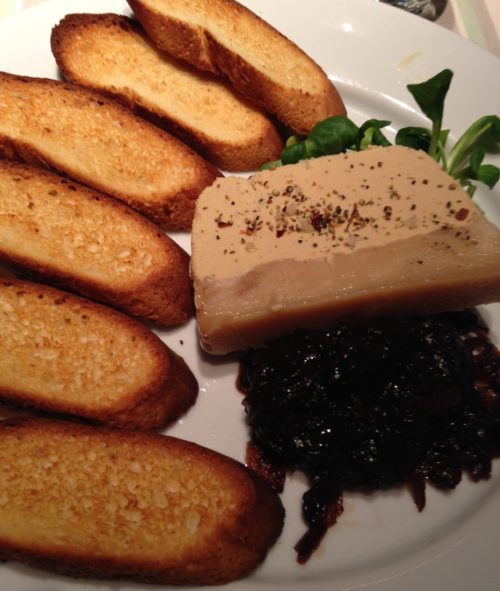 Day 6 –
I walked through a pitiful snow shower to the nearest spot where I could get a hot cup of joe, an English themed coffee shop on Dohány street. Schnitzel was still fast asleep having stayed up all night watching Rick and Morty on Netflix. The London coffee society is a compact two story café with coffees, paninis and exposed brickwork. I watched the snow get heavier out of the window as I wrote to my friend Joseph. On the back of the postcard I described the Mr Bean painting that was hanging on the exposed brick wall, and ruminated on what the Hungarian's view of British people might be. Are we hapless goofs like Mr Bean and Basil Fawlty? Or do they see what I saw in the spring in Budapest; English twats with fat sunburnt bellies full of cheap beer and beige food, 3am chants, broken bottles. vomit covered pavements, DO…….YOU……..SPEAK………..ENGLISH?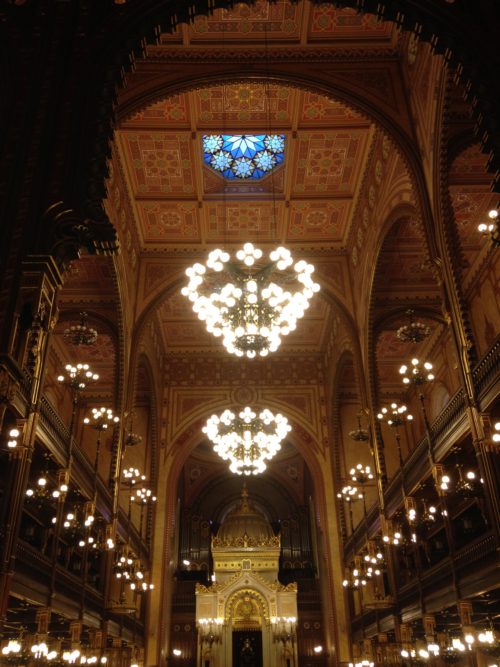 Dohany street synoagogue is the largest synagogue in Europe, and the second largest in the world. We paid the 3000 (£9) entrance fee and joined a guided tour lead by a multilingual Portuguese man called Dennis (he wasn't called Dennis actually, I can't remember his name). We sat in pews while Dennis told us about the Moorish revival style of the architecture, the Torah ark and organ inside the building, the local Jewish community and the living conditions in the Jewish ghetto during the second world war and the impact of the holocaust. It was an incredibly interesting, and sobering talk about a fascinating building but I would have loved to have an hour or two alone just to walk around and take in all of the details and to sit and soak it in.
We didn't leave the area of Erzsébetváros the whole day. Dinner was at Macesz, a Jewish Bistro that has a rocking horse hanging from the ceiling inside. We shared our starters of latkes with sour cream and matzoh ball soup. Schnitzel claims to have eaten at least 1000 matzoh balls in his life and he said these were the first ones with any flavour to them, big ole things floating in a sea of thin broth with cubes of meat. The latkes were big, firm and as salty as a pirate's mouth, I fucking loved them. Everything was so perfectly seasoned, I wanted to introduce my Menza carbonara to it to show it what flavour tastes like  Schnitzel and I shared a main again, just in order to save enough room in our bellies for desert. I'm a duck meat fanatic, the kind whose mouth waters when walking past a duck pond, It's my favourite meat and I will almost always choose it if it's on the menu, Their duck meat with croquettes and parsnip puree sounded so appealing that just reading the words made me feel warm inside, and it didn't disappoint. I don't have to tell you how perfectly cooked the plump pink fillets of duck breast were because you can see for yourself below but I can tell you that the food was so good that I am having a hard time not licking my screen right now as I look at it again.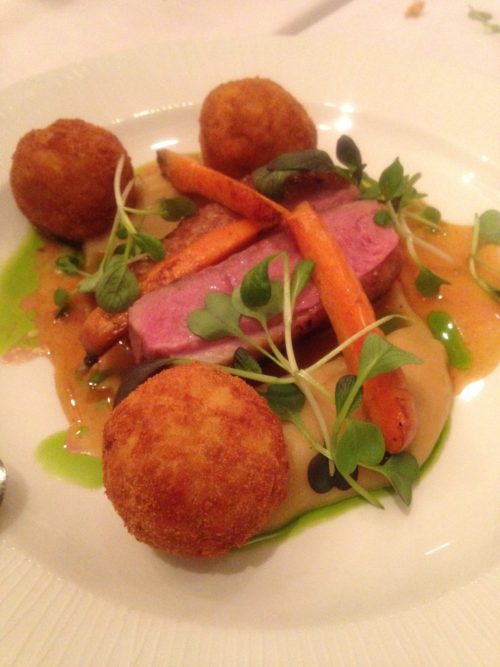 Some people like a coffee or a digestif after dinner, personally I like to shoot pretend aliens to help my dinner go down the right way.The Let's go arcade is open 24 hours a day and every game there costs 200 HUF (55p in the UK or 70 cents in the U.S). It was a stones throw from the apartment and a short walk from Macesz and it had Terminator fucking Salvation – my favourite arcade game of all time. I'm not a fan of the Terminator films, in fact I think I've only seen about ten minutes of one and it almost definitely wasn't terminator salvation. We walked through thick plastic curtains, the kind you might have at a butchers, to get inside where there was maybe two or three other people wandering around. I wiped the floor with Schnitz at Terminator Salvation, where you get to hold a massive gun and shoot at these metal alien creatures on the screen. When you play with someone else you are actually on the same team together but there isn't much I can't make into a competition and I racked up way more kills than him thus I won.  He did beat me, and some poor sap trying to impress his date, at Mario kart or some racing game with rainbows and shit. I blamed my loss on the fact that I am not a driver and he has been for years, he was able to transfer his real life experience into mariopoints whereas I can't even steer a fucking shopping trolley in real life. We ended on a high note, stopping to play a rabbit bashing game on the way out which I trounced him at. It was incredibly endearing and hilarious watching him play as he looks like an octopus having an epileptic fit when he tries to move too fast.