'It was a pleasant cafe, warm and clean and friendly, and I hung up my old water-proof on the coat rack to dry and put my worn and weathered felt hat on the rack above the bench and ordered a cafe au lait. The waiter brought it and I took out a notebook from the pocket of the coat and a pencil and started to write…' – Ernest Hemingway
I'm not really a fan of Ernest Hemingway but one thing I can get with is his appreciation of a space (outside of a home) with which to write in. When I leave the house in the morning to go and do something mentally productive, I'm searching for somewhere that looks warm, friendly and pleasant enough to be able to sit down in and write. It needs to have coffee, plugs, tolerabe music and be one hundred percent devoid from gaggles of young mothers. It should be as comfortable as a home but less lonely and without the kind of pointless distractions that a home brings. As long as the surroundings are conducive to wherever I intend to go in my head, then its game on; I'm never leaving.
There has forever been an attachment between creatives and coffee shops and for as long as under (or un) paid young writers and artists exist so will coffee houses, aptly furnished with free wifi, free heating/air con and free conversation (should anyone dare to lift their heads from their laptop screens for just one goddamn second).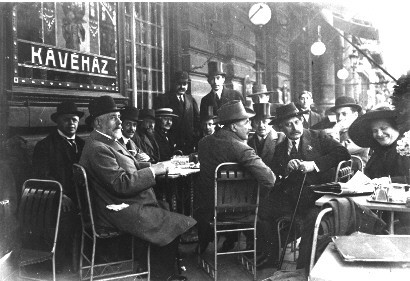 In the late 1800's there were more than 500 coffee houses in Budapest alone and they were mostly frequented by writers, artists, musicians and intellectuals, individuals who knew where to go in order to be surrounded by people like themselves, to write, to gossip and to make use of the often dedicated 'Writers menus' and free ink and paper. They catered so well to the cultural and intellectual communities they fulsomely housed that these particular hubs of intellectual life became an integral part of that culture and historic in their partnership. The psychedelic folk scene had Laurel Canyon, the early punk scene had CBGB's, the influential writers and movers/shakers of Hungary had their lavishly adorned Budapest Kávéház.
However, the First World War put an end to the Golden Age of the cafe. The Second World War saw most of them destroyed and if not destroyed, then closed down by leaders of communist regimes who saw the cafes as hubs of underground organisations. Many have been restored or rebuilt but are now mixed in with the new wave of coffee culture, the tiny sun trapped coffee shops you'll find on every corner in up and coming areas run by very serious, young baristas who are deathly passionate about the life process of a coffee bean.
So when I flew out there to meet Sarah, I was particularly excited to throw myself into the world of the Kávéház, both old and new, and get as close to a coffee induced death as humanely possible without actually dying.
MUVESZ Kávéház & THE HOUSE OF TERROR
We ended up walking about nine miles a day across the city which left room for at least two cake & coffee stops a day: One after the first big morning exploratory event and one at about 4pm when our legs couldn't carry us any more. One such event was our trip to the House of Terror Museum where our brains were scorched with the brutal communist and fascist terror regimes in Budapest after WW2. I knew such a tiny amount about this so not only were we struck with the barbaric reality of that time period but we were also concentrating super hard on taking in all the incredibly informative material that was thrown at us. The exhibition ends with a painfully slow elevator ride to the basement of the building. It was in that very basement that those suspected of being an enemy of the state were tortured, punished and executed. I almost had a panic attack in the elevator.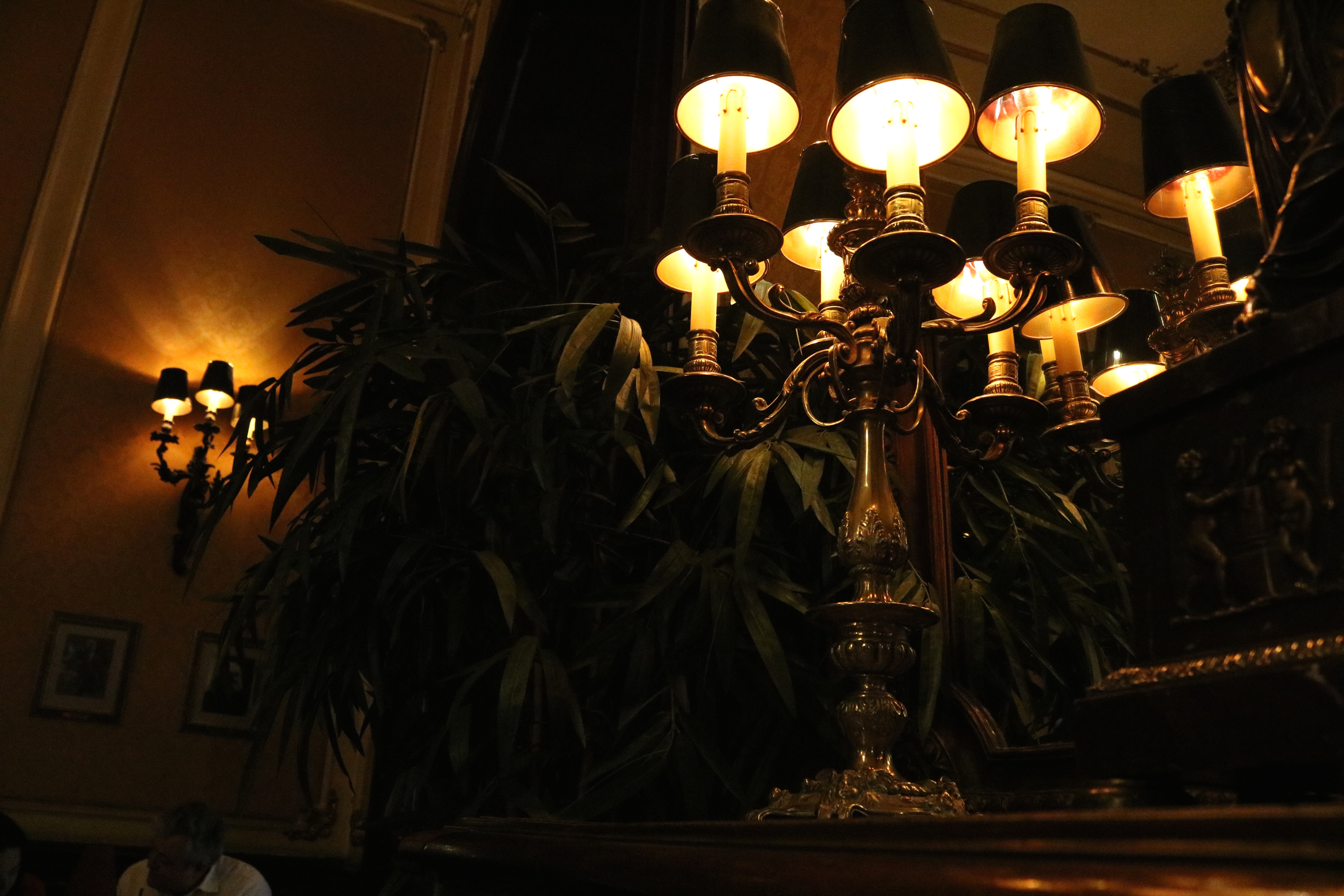 Muvesz Kávéház just a few blocks from the House of Terror, was a welcomed moment of down time after a very intense morning at the museum. It was also a perfect introduction to the Kávéház culture I was imagining. Quiet, dark and sheathed in an a dim amber light, it was exactly how I wanted it to be. A back room shielded from the outside world with wicker chairs and little green lamps on the tables, a small cup of carbonated water to accompany a pleasantly milky coffee (a tradition I can't seem to find any real explanation for but one I very much enjoyed) and bite sized sugary, buttery biscuits. I could imagine spending a day here to write very easily.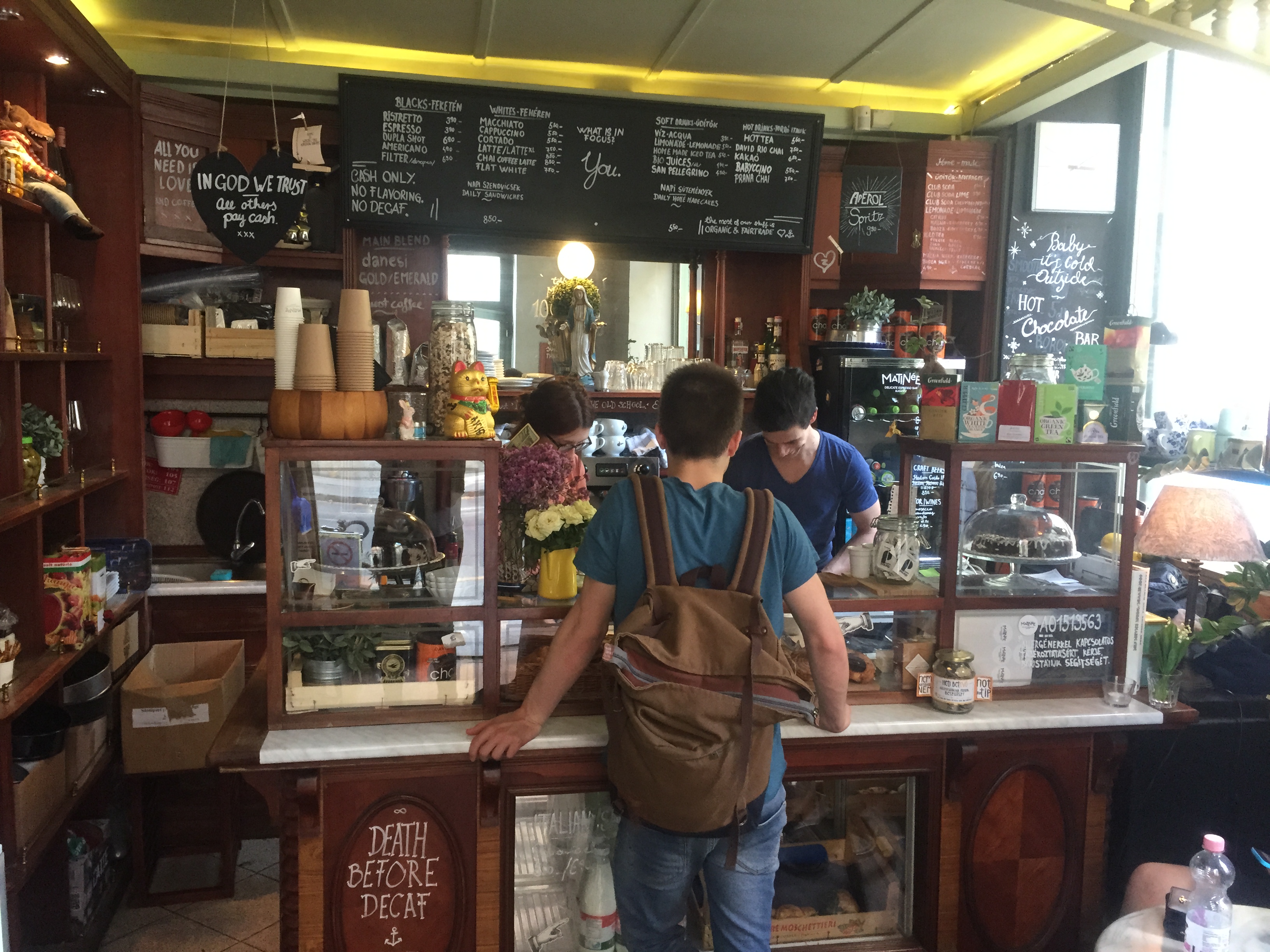 MATINEE
(Budapest, Benczúr u. 2, 1068 Hungary)
We discovered Matinee on our last day in Budapest, by chance, choosing to take the back streets home from the Széchenyi thermal Baths in order to try and avoid the harem of stag do's on pedibus's clogging up the main road from Heroes Square. It felt different in this part of town, quieter and calmer than the city centre. Still and breezy tree lined streets, exactly the kind of streets you want to be walking down on a sunny saturday afternoon. It was a tiny coffee shop on a corner with small tables outside and only a couple of tables inside. This is where I had my favourite coffee during the trip, a blend by Danessi, a Rome based coffee company and named after a pioneering coffee dude called Alfredo Danessi who opened his first coffee house in 1905. If I lived here, or if I had discovered it earlier in the trip, this is where I would come to sit all day and write and annoy the shit out of the baristas (who were both about 15 years old)
THE NEW YORK CAFE
Budapest, Erzsébet krt. 9-11, 1073 Hungary
The New York Cafe was opened in the late 19th century and branded 'the most beautiful cafe in the world'.  Housed on the ground floor of the New York Palace (which is now a hotel), it is splendid and ornate, a mix of Italian renaissance and baroque architecture and lavishly furnished. It initially gained its place in literary history when the Harsanyi Brothers took over the management at the beginning of the twentieth century and it became a hub for intellectual and literary life. Artists tables were formed and editors of literary magazines moved in (Nyugat Magazine, made the New York Kavehas their official office). It's still beautiful and worth a visit if you're in Budapest but aside from the historical blurb on the place mats, the history gets a bit lost.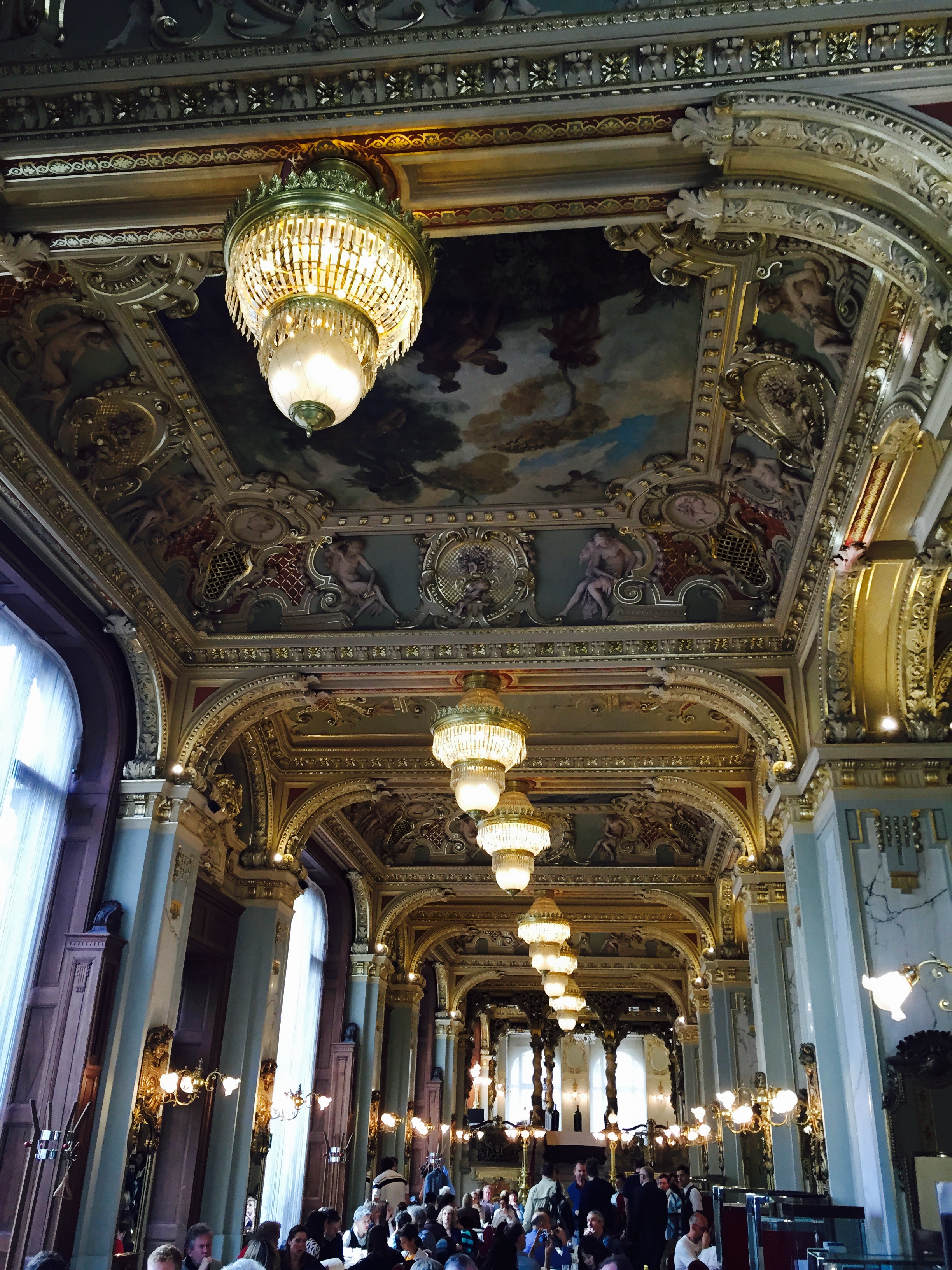 We dwell in the places that have the capacity to urge our creativity out of us. Yet what struck me about the New York Cafe in particular is that although I was expecting to be completely woo'ed by it's opulence and history, I found it quite difficult to feel inspired by it. The kind of writers who wrote in the grand and decadent, high ceilinged coffee houses like New York Cafe would be producing art that was eons different to say, the kind of writing that Orwell was producing in his bare Parisian attics. That seems obvious. Personally, I have always been drawn to the latter and although I could appreciate the grandeur of the building and it's interior, being there didn't stir me into feeling anything other than mild awe and with little lasting impression. Perhaps because I was merely a speck in a sea of tourists herded in through a zig zag queue like one you would see at an airport. However, they do have cracking scrambled eggs.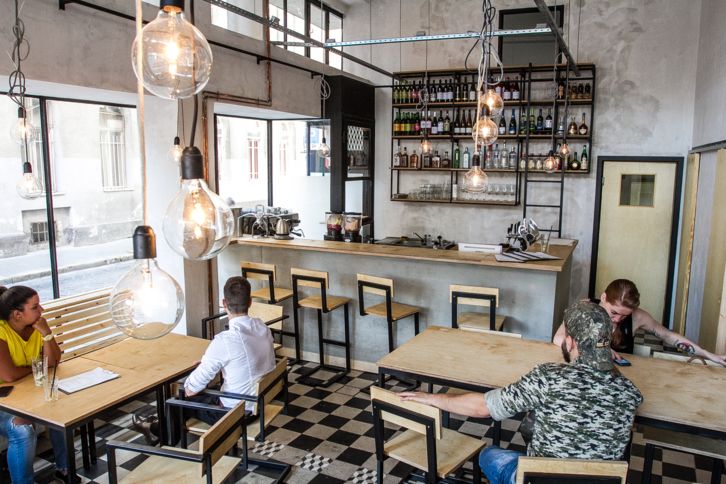 STIKA
Budapest, Dob u. 46/a, 1072 Hungary
Stika became my morning ritual. We were living just across the road in a sixth floor apartment overlooking the top of the ramshackle and beautifully decrepid, tightly knit buildings of the Jewish Quarter, buildings that swung between styles with every step. It was impossible to get very far without stopping and standing underneath them to try and work out exactly what they were.
Stika offer a 'Budapest Visitor Breakfast' of Hungarian sausages, two poached eggs, bacon, bread and salad.  As much as I loathed to separate myself from the locals and acknowledge the fact that I am just a visitor here, it was perfect and simple and came with an iced coffee and an apple juice.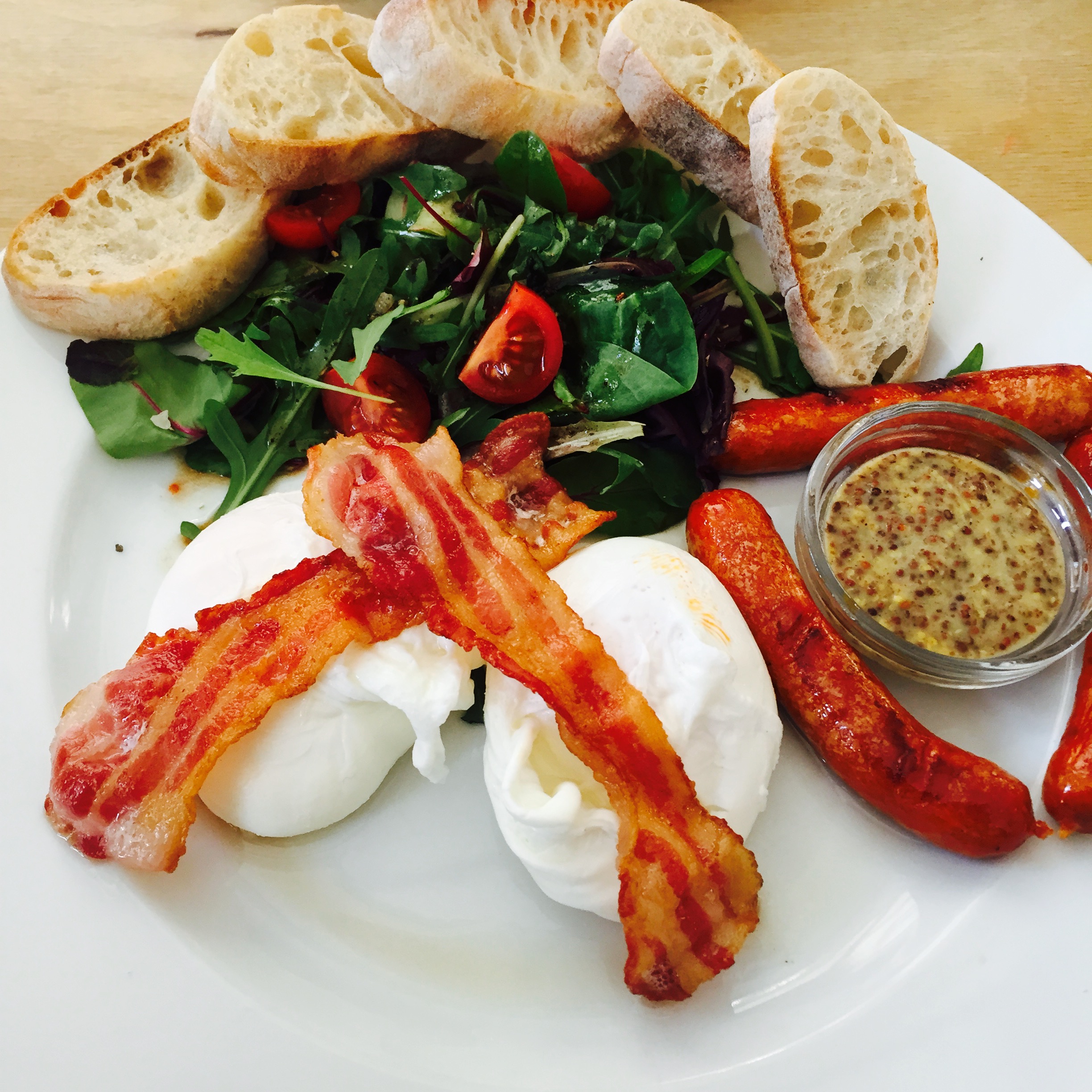 I subsequently came back each morning to sit and write in a sun trap of the glass house location and try and solidify my reputation as a regular and a local. When travelling, for however long I am in a place, I want to slot in unnoticed, to somewhere that feels like home. I want to find the one place (usually a coffee shop) that would accept me as a piece of furniture should I decide to never leave.
RUSZWURM
1014 Bp, Szentháromság utca 7
Ruszwurm is one of the oldest coffee and pastry shops in Budapest, opening in 1827. It's a pretty little, almost hole in the wall, coffee shop on the Buda side of the river, in Castle Hill. We took the long walk over there to visit the palace and ended up here at the precise moment we were absolutely desperate for a coffee and a cake.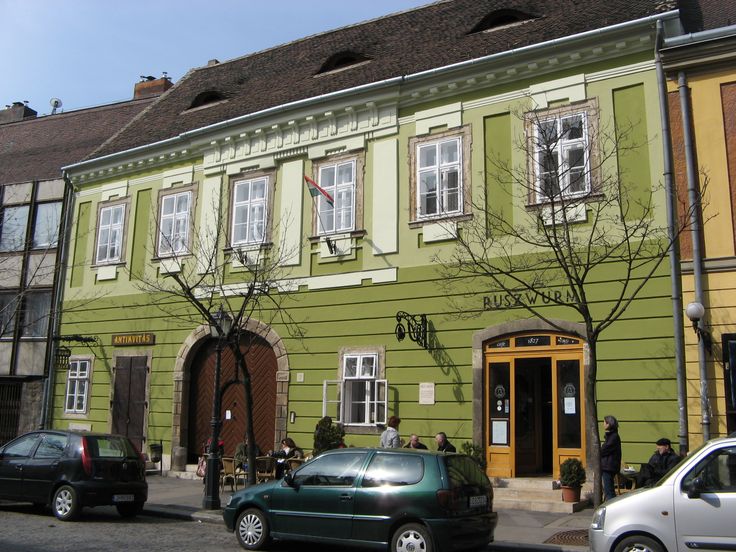 I took three separate trips inside to stare at the display of cakes, until a very friendly waitress came over sensing my confusion and explained every single cake in the display which was wonderful and overwhelming and I ended up with a piece of Dobos torte, a traditional layered Hungarian sponge with chocolate buttercream and a layer of caramel on the top. The cappuccino was good but at this point I'd realised that you don't come to these old coffee houses for the coffee. You come just to be there, to sit and stare and eat cake and imagine what it was like in them before the wars intervened.
Writing here would be difficult as it's tiny inside and mostly always packed but I could imagine this charming little coffee shop way back when being the perfect spot to disappear inside of, stuffed between mounds of cakes and dusty antiques.
My coffee exploration of Budapest is not even a tenth accomplished. There is so much more and to do it all, without giving myself a heart attack, would be to dedicate an entire week to the coffee houses of Budapest, to slowly and sensibly work through the caffeine, like any good addict would build up to an addiction. However, if you want a real taste of what the coffee house culture was like at the turn of the century, you're more likely to find it in the new wave of coffee culture, the small coffee shops like Stika and Matinee where all the young creatives are sitting all day working themselves towards a caffeine induced anxiety attack.
Here's to coffee shops, making one of the loneliest professions less lonely.